Marianne Matzo, PhD, FAAN – Podcast Host
Life is simple. We are born…we live…we die. We can make it so much more complicated than that, but I'm not really sure that doing so enhances our lives.
Our birthday is a time for celebration. Most of our parents were excited at the prospect of our birth, prepared for it, dreamed about who we would be, and what their child would be like. Each year on our birthday it's traditional to have cake and gifts to celebrate that we were born.
When I worked in a hospital it would play Brahms Lullaby over the loudspeaker whenever a baby was born, and everyone would stop and acknowledge that there was a birth. When someone died, there was no song played, no moment of contemplation about a soul leaving this earth. It was unacknowledged.
We may prefer to pretend that death is something to be fought against and "beat", especially in the face of life threatening or life limiting illnesses.
The truth is that everyone dies. We don't really know what it means to die (other than we are not on this earth), are unsure of where we go or if we go anywhere. Each religion and culture have their own belief about this, but until someone dies and comes back to give us the details, we each have our beliefs to hold on to. But these beliefs do not negate the reality of our mortality. The human body is made to die of something, at an unknown time.
Nothing in life is to be feared, it is only to be understood. Now is the time to understand more, so that we may fear less.

~Marie Curie
There are many handbooks for living and some information about dying and death. I have found that working in palliative care many people have the same need for information with certain individual twists. I want to offer the opportunity to learn about mortality, chronic illness, dying, and death based on my 42 years of working as a nurse. We want to answer your questions, talk about the details of something very few people want to talk about and fewer want to do.
Why did we select a tall ship as our logo? It symbolizes this journey with a sense of dignity and adventure. The poem Gone From My Sight by Henry Van Dyke below paints a beautiful metaphor that has comforted many patients and families through the years.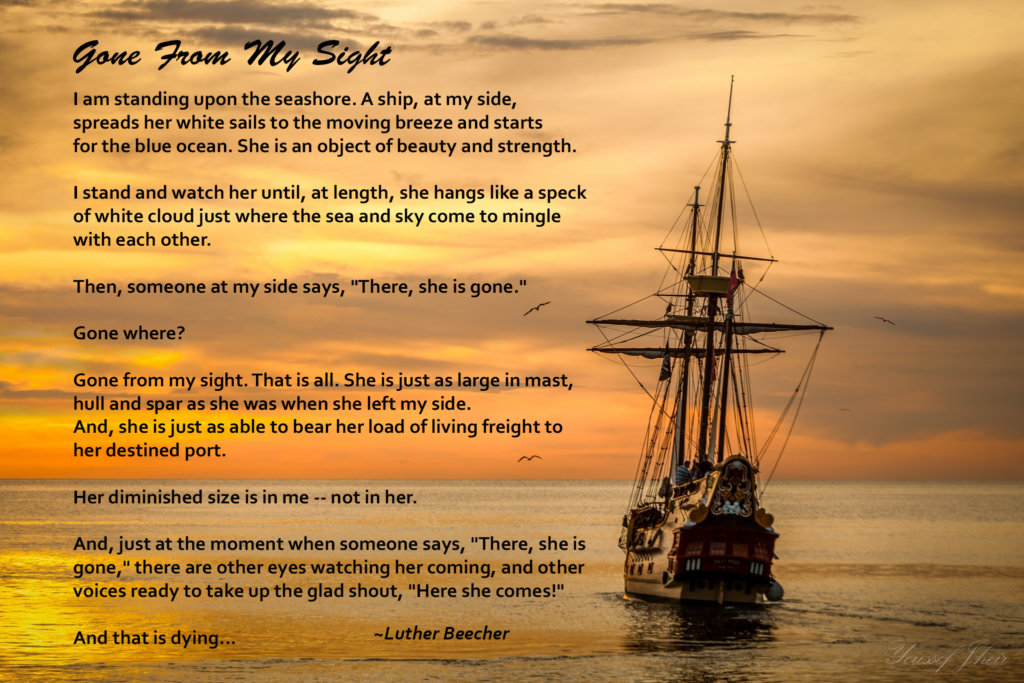 Every day is a gift. Learn what you need to know to make the best decisions for your life and death based on known scientific principles. We will go on this journey with you if you let us.