Why We're Here
Everyone Dies is a nonprofit that strives to:
Educate the public about the processes associated with dying and death including the full range of choices available.
Empower the public regarding options and evidence-based information to help them guide their care and effectively
communicate with their health care practitioners and family.
Normalize dying and reinforce that even though everyone dies, first we live, and that every day we are alive is a gift.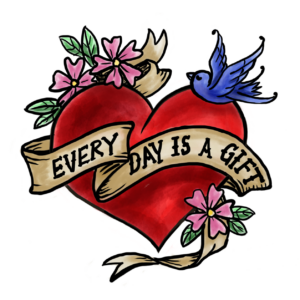 About Our Name
The registered nonprofit name is Everyone Dies – Drinks on the Driveway, Inc. So you may be thinking, the latter part has to have a story – and you're right!
"Drinks on the Driveway" originated with our Co-Founder David and his former wife Stacia (who died suddenly in 2017). Stacia organized a weekly gathering in their neighborhood, which took place on their driveway. David & Marianne considered making that the name of our non-profit, but the name was already taken. It is a way of remembering Stacia after she died, as her spirit continues in our work.