Why We're Here
Everyone Dies is a 501c(3) nonprofit organization that is registered with the Oklahoma Secretary of State. Our mission is to provide public education regarding serious illness, dying, death, and bereavement with the goal of changing the culture of dying and death in the United States through education.  We have been publishing weekly podcasts since April 2020; to date have produced 109 podcasts with 28,000 downloads and over 17,000 social media followers. Seventy-five percent of our podcasts are listened to in the United States and the other 25% are listeners from 122 countries.
Death is a natural part of the life cycle, yet it is shrouded by fear, isolation, and limited understanding of the dying process. Normalizing the life cycle, which includes death, will facilitate the education of the public regarding what may be expected at the end of life and how to make their wishes known.
Our podcasts are produced weekly with activities and educational materials written for the general population. This normalization of death will help people learn how to talk about death, understand what options are available in situations of life-limiting illness, and communicate their choices to family and health care practitioners. Daily availability to our listeners on Facebook is maintained to answer questions or give support. We are a source of research-based information that can be utilized to inform decisions regarding serious end-of-life issues.
We encourage exploration, education, and expression of issues related to serious illness, dying, death, and bereavement in both practical and creative ways. We achieve this mission by providing:
Resources related to understanding, coping, and accepting mortality
A weekly podcast about serious illnesses, dying, death, and bereavement

Regularly includes interviews with people personally dealing with serious illnesses, dying, death, or bereavement

A supportive online community presence to provide support and encouragement.
Educational Concepts
Live well and die well
Learn so you can plan and plan so your death can be consistent with your values
Every day is a gift (closing line of every podcast)
Death is not optional. Since you must do it, learn all you can so you can do it your way.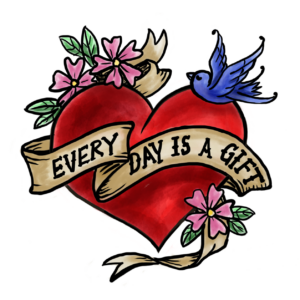 About Our Name
The registered nonprofit name is Everyone Dies – Drinks on the Driveway, Inc. So you may be thinking, the latter part has to have a story – and you're right!
"Drinks on the Driveway" originated with our Co-Founder David and his former wife Stacia (who died suddenly in 2017). Stacia organized a weekly gathering in their neighborhood, which took place on their driveway. David & Marianne considered making that the name of our non-profit, but the name was already taken. It is a way of remembering Stacia after she died, as her spirit continues in our work.
Links