What is Mourning Jewelry?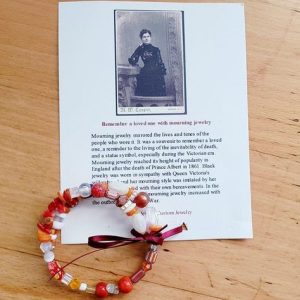 Historically we had outward symbols to let people know were grieving (e.g., black arm bands, dressing in all black for months or years, men not shaving for 40 days, mourning jewelry). These practices are no longer followed, so unless we say that there has been a death, it can be unknown to people we encounter. And with that we have lost the opportunity to share our story and receive comfort and condolences.
Mourning jewelry became fashionable in the 1800's. The death of Queen Victoria's beloved Albert in 1861 began a forty-year period of mourning for The Queen and an increased popularity of mourning jewelry throughout Great Britain. While some observed a period of mourning that had an end, many continued to wear mourning jewelry the rest of their lives as a demonstration of the depth of their grief and loss.
We offer a way to memorialize your loved one or treasured pet with a piece of handmade jewelry made by Marianne Matzo. When people comment on it and the wearer can say for example "I received this when my mother died" which opens the conversation about this loss.
About the Jewelry
All our jewelry is made with semi-precious stones and beads, vintage beads, and pearls. You can choose between earrings or bracelets and the color family.
Cost is $20 and includes shipping.  Profits from these sales are donated to Everyone Dies, a registered nonprofit organization.  Your jewelry will come with a receipt for a tax-deductible donation of $15 (we can't include postage as a tax deduction).  Purchase now on PayPal – all cards also welcome. (Contact Marianne for your customization requests.)
Remember a Pet Too
We also have a line of mourning jewelry to memorialize the death of a pet. These are bracelets with a bead that has a pawprint on it.  If there are multiple pets, we can custom make the bracelet to have as many pawprint beads as deceased pets. If you have any questions, please contact Marianne.
Below are just a few examples: