Marianne Matzo, PhD, FAAN – Podcast Host
I am the youngest of four children with a gap of 15 years between my oldest sister and myself.  My mother had clear ideas of what skills girls needed to develop: ironing; cooking; sewing; embroidery; cleaning; and grocery shopping.  Good girls did not run around and sweat, did not hang out with boys, and never played sports. Growing up in the 60's I resented this limited role for women, but that did not get me out of learning to do these chores.  My mom bought me a pillowcase set so I could learn to embroider.  I finished one and eventually just washed the other one and used it unadorned.
One of my jobs was to iron my father and brother's shirts and handkerchiefs and our family's pillowcases.  They had to be done correctly, no wrinkles around any seams or creases where a crease did not belong. Mom had an old 7-up soda pop bottle that she kept water in with a shaker top.  We did not have steam irons in those days, so the clothes were kept in a plastic bag to keep them damp and we sprinkled the water on them to help the iron glide. She kept Niagara spray starch to lend a crispness to the fabrics.  If they were not 'correct' I got them back to do again, as many times as it took for them to be perfect.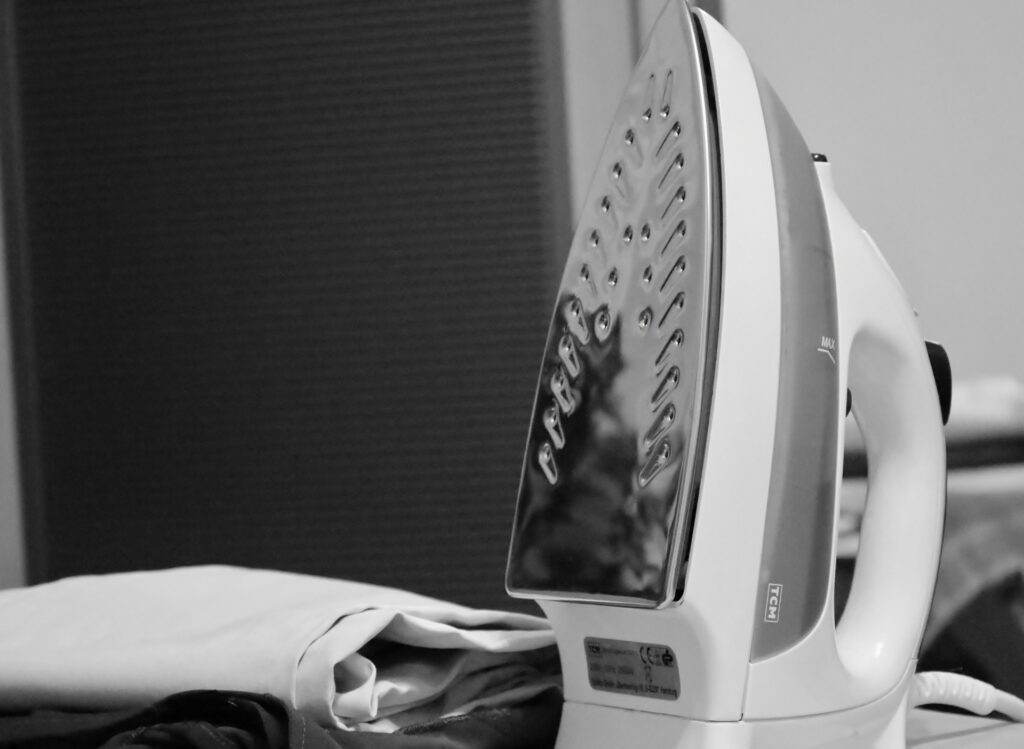 Fast forward 50 years.  I have not ironed a pillowcase since I was 17.   I retired from a fascinating career in nursing and have raised two emerging adult daughters.  I never made them learn any of the domestic skills my mom had me learn.  But something has happened since my retirement.  I started to miss the crisp clean smell of ironed pillowcases, the way they fit so perfectly in the linen closet, the way they feel on my cheek after I have changed the bed. 
I began to have the desire to iron my pillowcases. When my mom died, I had taken her ironing board and iron, for what I did not know. I pulled these out, and starting at the top seam of a pillowcase, I ironed down and out so as not to get any wrinkles or lines.  In the time when I am ironing it is just me and the cotton and the steam. When I iron, I give the pillowcase my full and undivided attention. This work has become one of my mindfulness meditations.
"When you eat, you do not eat; when you play, you do not play." We are often so busy worrying about the future that we do not live in the present moment of our lives.
Meditation is an undistracted focus for a positive purpose.  Zen Buddhist Masters acknowledge that many people are unfocused and use Koans1 as a way to help their students unravel truths about the world.1  A Koanic phrase about being unfocused is "When you eat, you do not eat; when you play, you do not play".  We are often so busy worrying about the future that we do not live in the present moment of our lives.
For me, ironing my pillowcases has become a mindfulness meditation.  The snap of the pillowcase as I lay it on the ironing board, the consistent procedure for flawless ironing, the smell of the starch interacting with the cotton, the crispness of the linen.  I can redo my work to achieve perfection if I wish.  We do not have many do-overs in life and even fewer at the end of life. But I have found mindfulness meditation in the art of ironing and the realization that every day is a gift. Thanks, mom.
1.  Kuruvilla C. These Zen Buddhist Koans Will Open Your MindOut of nowhere the mind comes forth. /huffington Post 2015 10/31/2015.