Our topic this week is about pleasure and making sure that normalcy and pleasure are included at the end of life. Charlie reports about the unique approach of a Palliative Care unit in France: wine. Our recipe this week pairs wonderfully with wine: Loaded Baked Potato Dip.  We also are pleased to be chatting with Claire Lucky, AKA the Grieving Bitch on Instagram, who is joining us for our ongoing series about her experiences as a millennial widow.
Wine and Pleasures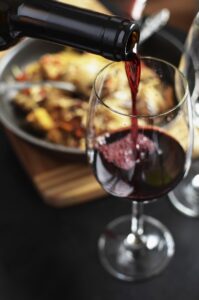 Charlie shared the work being done by Dr. Guastella at the palliative care unit at Clermont-Ferrand University Hospital (CHU), a public medical center in south-central France surrounded by the wine regions of Bordeaux, Sancerre, and the Loire Valley. Dr. Guastella developed a wine bar that serves the people they care for wine from real bottles poured into real glasses. The purpose is not for patients drink a lot, rather, to help those advanced in years maintain a sense of normalcy and dignity. Listen to the episode to learn more about this program and the research to back it!
If I had my life to live over…
Erma Bombeck was a NYT columnist who died in 1996 from cancer.  Charlie read the essay she wrote after being diagnosed with cancer, meditating on the simple pleasures in life.
If I had my life to live over...
An Essay By Erma Bombeck

Someone asked me the other day if I had my life to live over would I change anything.

My answer was no, but then I thought about it and changed my mind.

If I had my life to live over again, I would have waxed less and listened more.

Instead of wishing away nine months of pregnancy and complaining about the shadow over my feet, I'd have cherished every minute of it and realized that the wonderment growing inside me was to be my only chance in life to assist God in a miracle.

I would never have insisted the car windows be rolled up on a summer day because my hair had just been teased and sprayed.

I would have invited friends over to dinner even if the carpet was stained and the sofa faded.

I would have eaten popcorn in the "good" living room and worried less about the dirt when you lit the fireplace.

I would have taken the time to listen to my grandfather ramble about his youth.

I would have burnt the pink candle that was sculptured like a rose before it melted while being stored.

I would have sat cross-legged on the lawn with my children and never worried about grass stains.

I would have cried and laughed less while watching television ... and more while watching real life.

I would have shared more of the responsibility carried by my husband which I took for granted.

I would have eaten less cottage cheese and more ice cream.

I would have gone to bed when I was sick, instead of pretending the Earth would go into a holding pattern if I weren't there for a day.

I would never have bought ANYTHING just because it was practical/wouldn't show soil/ guaranteed to last a lifetime.

When my child kissed me impetuously, I would never have said, "Later. Now, go get washed up for dinner."

There would have been more I love yous ... more I'm sorrys ... more I'm listenings ... but mostly, given another shot at life, I would seize every minute of it ... look at it and really see it ... try it on ... live it ... exhaust it ... and never give that minute back until there was nothing left of it.

References & Resources
University Of Michigan. (2001, October 1). Drug Use "Sensitizes" The Brain. ScienceDaily. Retrieved May 25, 2022 from www.sciencedaily.com/releases/2001/10/011001071942.htm
Guastella, Virginie & Mulliez, Aurelien & Andréa, Tarot & Lander, Axelle. (2018). A "Wine Bar" at the palliative care unit: A different way of caring. Nursing and Palliative Care. 3. DOI: 10.15761/NPC.1000192.
Wyvell CL, Berridge KC. Incentive Sensitization by Previous Amphetamine Exposure: Increased Cue-Triggered "Wanting" for Sucrose Reward. The Journal of Neuroscience 2001;21(19):7831. DOI: 10.1523/JNEUROSCI.21-19-07831.2001.
Erma Bombeck, Eat Less Cottage Cheese and More Ice Cream: Thoughts on Life from Erma Bombeck.  Available for purchase on Amazon
Related Podcasts for this Episode:
Recipe of the Week
Martin Short, in "Only Murders in the Building" loves dip…in fact, all he eats is dip. To quote his character, Oliver, "I haven't had an actual entree for years. Granted I've lost 14 pounds and a ton of hair but totally worth it".
Short, Steve Martin and Selena Gomez star in a Hulu comedy about homicide, podcasts, and the peculiarities of life in a New York luxury prewar building….and start a true crime podcast about a murder in their building. So this week, we offer Loaded Baked Potato Dip, like eating twice baked potatoes, only different.  Pair with a nice white wine in a glass bottle and stemware and you will be living large. Take this dip to your next funeral lunch and you will be having people line up for your recipe!
Calling All Songwriters!!!
As a songwriter, 'Everyone Dies' is inviting you to showcase your original work on an upcoming podcast.

There are many wonderful songs that could be played at a funeral. We also know there are songs that could be played, but are cringeworthy (e.g. Ding Dong the Witch is Dead; Another One Bites the Dust; Ring of Fire, etc.).

We are inviting you to send us a recording of two of your original songs (i.e. that could be played at a funeral, one that is appropriate, one that is likely not) to be included in the third half of the 'Everyone Dies' podcast. We will include as many artists over the next year (maybe longer if we are enjoying the segment) as possible.

What we need:
Go to this link, fill out the form and submit it along with your two original songs in .wav or .mp3 format (i.e. two original songs that could be played at a funeral, one that is appropriate, one that is likely not). We will screen them and let you know what week your work will be included. We will include all your information in our show notes so people can purchase your recordings.
From Everyone Dies:
Everyone Dies: and yes, it is normal!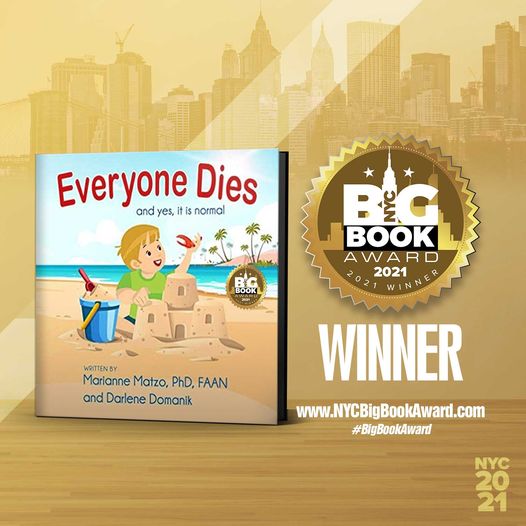 Everyone Dies (and yes, it is normal) is a story about a young boy named Jax who finds something special on the beach where he and his grandpa Pops are enjoying a wonderful day. Pops helps Jax understand that death is a normal part of life. This book provides an age appropriate, non-scary, comfortable way to introduce the important topic of mortality to a preschool child. Its simple explanation will last a lifetime. Autographed copies for sale at: www.everyonediesthebook.com. Also available at Amazon
Mourning Jewelry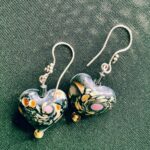 We offer a way to memorialize your loved one or treasured pet with a piece of handmade jewelry.  When people comment on it and the wearer can say for example "I received this when my mother died" which opens the conversation about this loss. All our jewelry is made with semi-precious stones and beads, vintage beads, and pearls. You can choose between earrings or bracelets and the color family. Learn More
Make a Tax-Deductible Donation Here:
Subscribe & Hit That Bell So You Don't Miss a Podcast!
You'll also be eligible for a monthly drawing!