Sandi Troup, BSN, RN – Producer
A couple of months ago, the hospital I work at had a beautiful table set up by the cafeteria dedicated to babies lost by miscarriage. Something drew me in to see more. They gave me a wooden momento with cute little pink and blue footprints and a little angel. I thanked the nurses and social workers that thoughtfully arranged this, and went back up to my office with the ornament cradled in my hand. I slumped in my chair, and found myself in an unexpected wave of mourning, and didn't fight the sobs that washed over me like the necessary, healing cleansing of a wound.
Several years ago, I was eagerly awaiting a visit at the end of the first trimester where I could listen to a heartbeat and finally announce to family the secret we'd withheld.
I had to deploy when my first son was an infant. I missed so many important moments, my heart as a mother overpowered my desire for a military career. I had decided to leave the Air Force, and we successfully planned a baby to be just after our transition back to the States. Everything was going according to plan! But only days before that appointment, something went wrong. Instead of getting joyful news, I was sitting alone in the hospital as a kind physician told me what I dreaded to hear – the baby was the right size, so it had been growing fine, but there was no heartbeat. But maybe they just weren't finding it…she gave me a bit of hope. Soon after though, by body started the miscarriage process, so there was no doubt.
I seemed to take it matter-of-fact at the time…there was no time to grieve. We were in the middle of an important military operation, and I even returned to work while still having mild contractions! My husband and I would just try again.
More challenges
Four months later, we were transitioning to the USA from Germany. I had healed long enough, and was looking forward to a second chance.
My very last week on duty, I decided to get a second opinion about a small lump I had just under my armpit. In what seemed like a whirlwind, I soon found out I had breast cancer. I was fortunate – it was not yet invasive, so I didn't have to do chemotherapy – but it was extremely aggressive and widespread. I had no option but a mastectomy. Then I had to have follow-on therapy (Tamoxifen) to reduce hormones that could feed any remnant cells or new activity. My plans for another child were on hold for five years…but would it happen at all? I was concerned about the risk of pregnancy hormones, and five years was well past plans we had for our family, especially given my age.
This tomboy had just become comfortable with her femininity, and absolutely loved being a mother – nursing, nurturing. I longed to do that again. This seemed like an assault on all of that. It was more than loosing a breast, it was losing a piece of my sexuality and my identity. On top of that, within six months, we found precancerous activity in the other breast, even with the Tamoxifen. I ended up having a second mastectomy. There was a long road of surgeries and reconstruction. I came to find peace with the "new me," but forever lost that window for another child. It wasn't until this period that I finally came to accept and work through the impact of the combined losses.
Yet another battle
Fast forward several years. I found myself having difficulty walking. My left leg was weak. My right arm was also having problems. The problems seemed to be spreading along my limbs. I saw numerous specialists, had many tests, had second opinions, and finally after three years – when I was expecting a completely different diagnosis – was told I have ALS (Lou Gehrig's Disease). If you don't know, ALS is always fatal, and there is no cure.
Breast cancer made me acquainted with my mortality, but with ALS, it seems to walk alongside me. My husband and I left for several days alone at Galveston Beach after the diagnosis to process it together. My disease is progressing slowly, and we can hope for advancements, but the fact is that the future is not going to be what we imagined it to be. I will continue to lose function until I am completely paralyzed.
Our second day there we were at the beach and had a beautiful period where we grieved in our own way, together, but separate. My tears rolled into the sea as stood in the waves, thinking about the days I may not be able to do this on my own…he sat on the beach and cried to himself. After that long afternoon, we came together and treasured our long weekend as if it were any other. Life may be limited, but we have to make the best of it!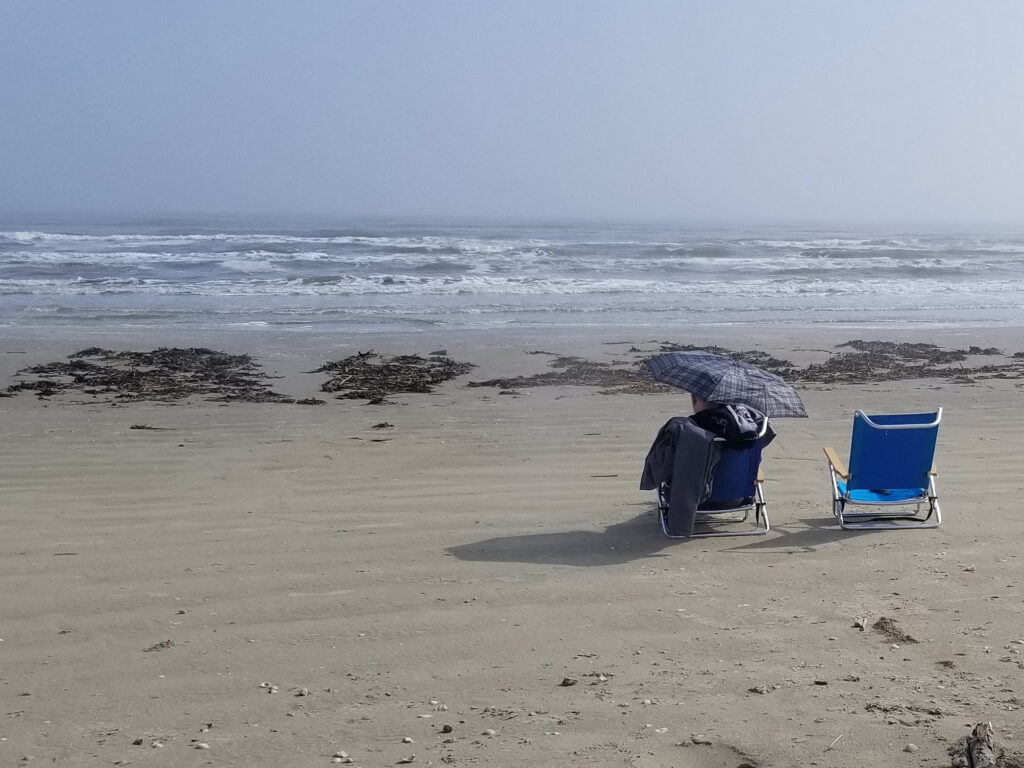 My ALS diagnosis was a little over a year ago. I have done much better than we expected, but I still have little moments of grief as I lose function. I remember when I finally resigned to sit in a cart at WalMart after trying for months to walk on my own slowly and painfully. I cried when I realized I may not be able to do my woodworking much longer because my grip strength is staring to fail. I banged my steering wheel and wept bitter tears one day when I could barely hoist myself into my pickup…my 4WD chariot to the forests and rivers I love. Each of these brings a moment of frustration and tears as I grieve each loss or its impending loss.
I share these stories because grief has many faces.
Some of us carry hidden wounds of miscarriages we've never told anyone about. Miscarriage can be especially difficult because people around us may try to put a limit on our mourning or even minimize it – how can you mourn an unborn child? Years after mine, I was finally sharing with a counselor about it – I tried to gloss over it, but she opened my eyes to how much it affected in our lives. It wasn't just the loss of a baby, it was the loss of the expectations, hopes and plans we had for that child.
Grief isn't always from the loss of a loved one. Cancer often brings many losses…hair loss from chemotherapy impacts people more than they expect it would. Surgeries to remove cancers can affect both men and women by taking a piece of their sexuality or function. Chronic diseases take us piece by piece, making it seem like numerous waves of loss. For terminal illness, we are hit with the anticipatory grief knowing a loss is looming in the near future.
How do I cope?
I had to learn to stop running from the pain. It's better to let it wash over like an ocean wave. It can be overwhelming, but there is something cathartic and healing about letting the emotions out, even with brief tears.
I have had to learn to share with others. A burden shared is a burden lightened. I always tried to be stoic and face challenges alone. With the breast cancer, I was introduced to another young woman that also had cancer, and we started a support group for other young women. I was amazed at how healing it was for all of us to stand strong together and enjoy our common bond. Sometimes our greatest strengths come through trials!
I look for a purpose. Is there something I can learn, is there something I can pass along as I work through this?
I try to put action towards that purpose. I found helping others through their breast cancer journey so rewarding, so healing. With ALS, I am participating in research and promoting efforts to move our science forward. I am also busy with my son using our technical knowledge to mitigate my loss of function. He helped me make a pretty awesome portable motorized wheelchair! Maybe as we refine it we will have something worth sharing with others to make their lives better.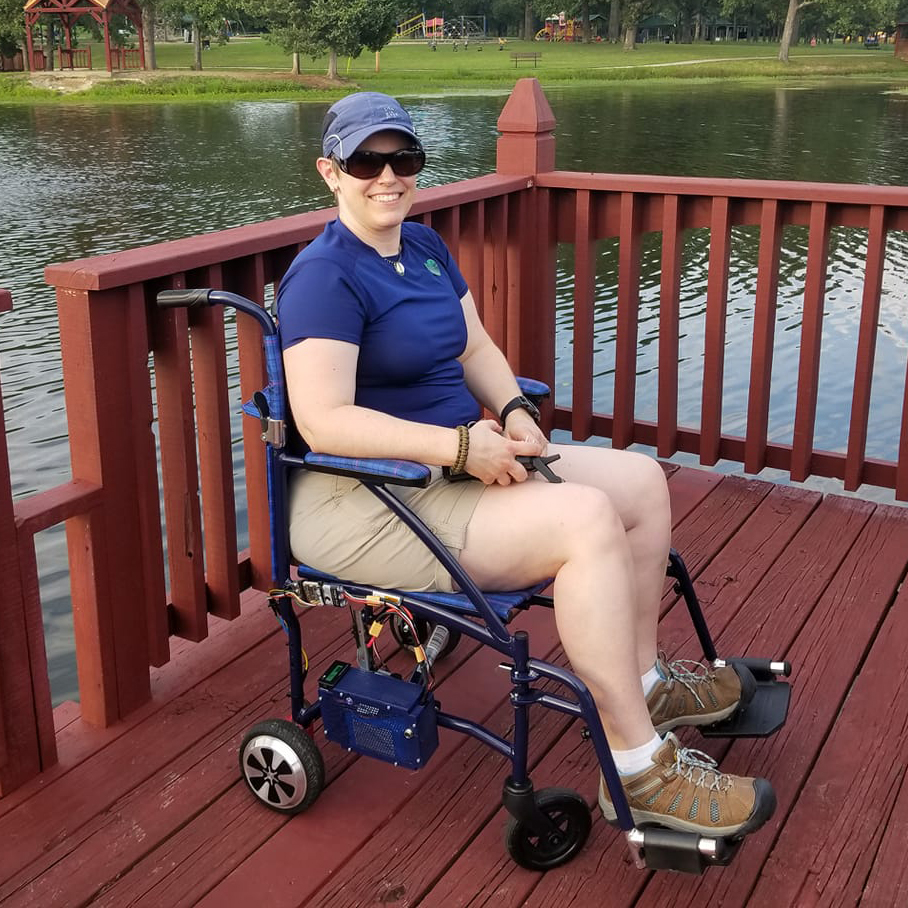 I treasure life. None of us know how much time we have. Take in every moment, every smell, every sight and bookmark it as an anchor for when the storms rage around us again.
---
My only son graduates from high school tomorrow. I'm excited for him, but it's also bittersweet as I know I'm that much closer to an empty nest. If you meet him and ask me if I "only have the one," I'll smile and say yes. Inside I'll feel a sting as I think of the sibling that would have been three years younger than him. Call it mother's intuition…my heart tells me it was a girl. What would she be like?
As my own journey is taking me closer to that other shore, I feel less sorrow, and more anticipation at the thought of finally meeting her. I can almost make out her silhouette…
Author's note: a couple of years after I wrote this, we are revisiting my ALS diagnosis, thank goodness! I leave my thoughts and emotions unedited in hopes that it helps someone in similar struggles.