How to rise above difficulties for sexual expression, love and connectedness
Serious illness can try to take so much from us. But does it have to take away intimacy and sexuality? Our attitude and creative approaches are key to maintaining this vital quality of life component.
Short on Time? Here's where you can find these topics.
00:00 Intro and recipe
5:00 Essay: "I just learned I only have months to live. This is what I want to say"
15:00 Marianne: Sexuality and Intimacy
25:50 Discussion – lubricants vs moisturizers and more!
37:28 Claire on how she found intimacy as her husband battled brain cancer
There is a growing recognition of the public health importance of concerns related to sexuality and their implications for health, well-being, and quality of life.  Sexuality is basic to being human. Sexuality is the capacity of the individual to link emotional needs with physical intimacy.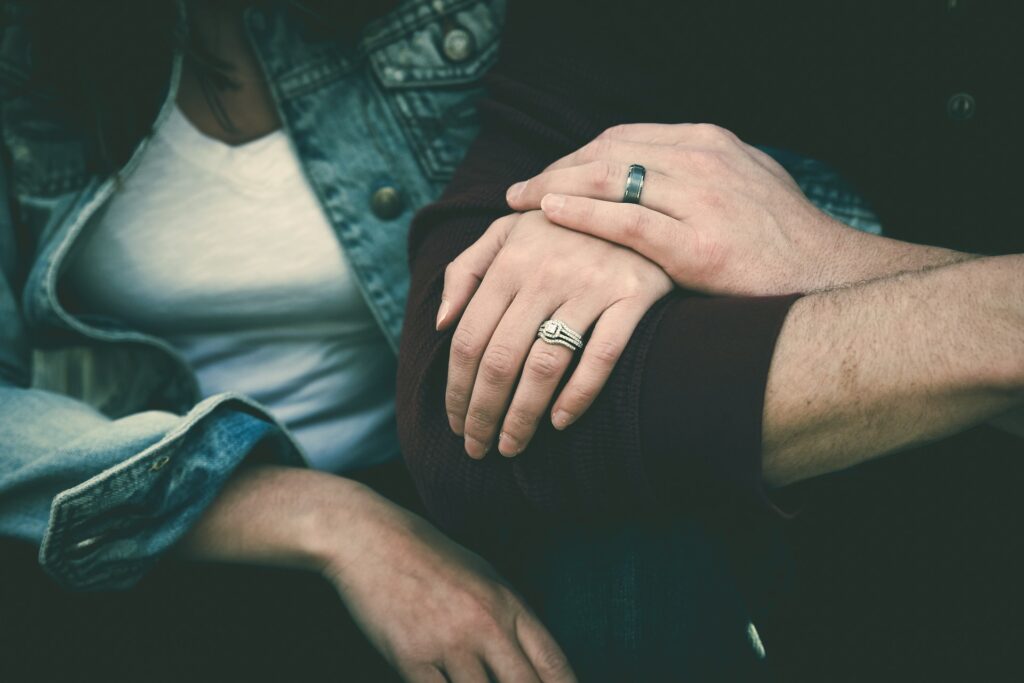 Sexuality and the ability to experience intimacy are vital to quality of life.
Sexual health within the context of serious illness has many facets. The disease or treatment can have direct impact on anatomical structures. Many times body image is affected. Commonly, fatigue and/or pain can decrease interest. And a partner's concerns about causing pain to their significant other can be a unspoken barrier.

Listen to Marianne as she talks about common themes and challenges, as well as ways people have found to find physical intimacy in ways that go beyond intercourse.
Resources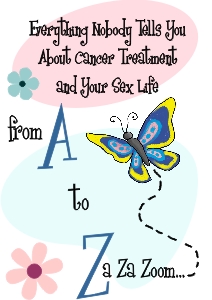 A free guide on sexual health for women
Developed by Dr. Matzo and team, this is a witty, informal guide written to address sexual health and intimacy concerns for female cancer patients.  It was part of a project funded in part by The American Cancer Society Grant #: 117514-PEP-09-200-01-PC titled "Improving Communication about Sexual Health for Adults Living with Ovarian Cancer"
Although this was written in cooperation with cancer patients, it is applicable to many illnesses that impact sexuality.
---
"I just learned I only have months to live. This is what I want to say"
Jack Thomas, a journalist at The Boston Globe wrote this essay a year before his death at age 83. Listen as Charlie reads his thoughts. You can find the article at The Boston Globe here.
Recipe of the Week
Check out this recipe for Sweet Sorrow Bittersweet Chocolate Cake from Flour Arrangements.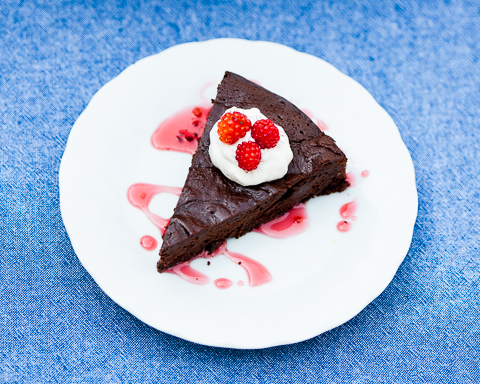 ---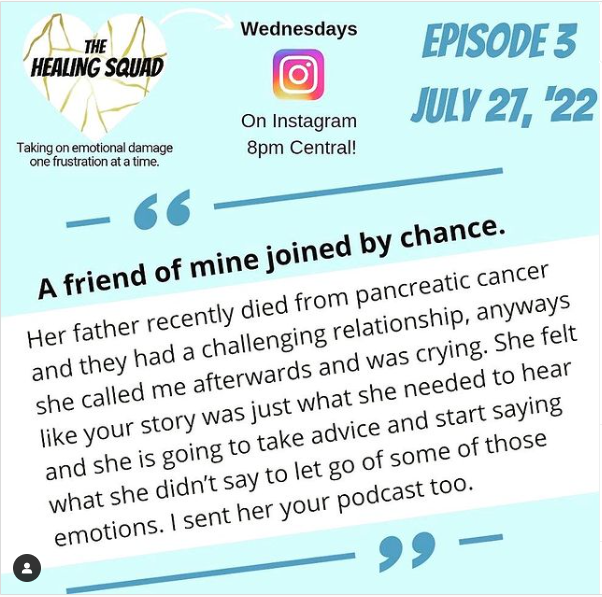 Join Claire Luckey, Marianne Matzo, Anita Myers, and special guests every Wednesday at 8pm Central for live discussions!
Instagram: The Healing Squad
Taking on emotional damage one frustration at a time.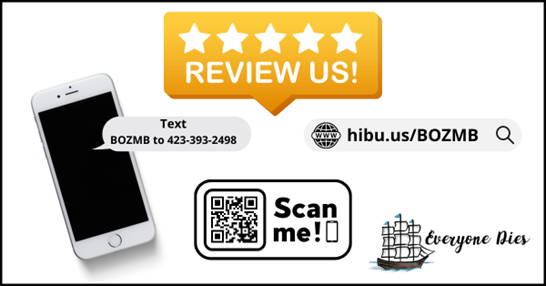 ---

As a songwriter, 'Everyone Dies' is inviting you to showcase your original work on an upcoming podcast.
There are many wonderful songs that could be played at a funeral. We also know there are songs that could be played, but are cringeworthy (e.g. Ding Dong the Witch is Dead; Another One Bites the Dust; Ring of Fire, etc.).
We are inviting you to send us a recording of two of your original songs (i.e. that could be played at a funeral, one that is appropriate, one that is likely not) to be included in the third half of the 'Everyone Dies' podcast. We will include as many artists over the next year (maybe longer if we are enjoying the segment) as possible.
What we need:
Go to this link, fill out the form and submit it along with your two original songs in .wav or .mp3 format (i.e. two original songs that could be played at a funeral, one that is appropriate, one that is likely not). We will screen them and let you know what week your work will be included. We will include all your information in our show notes so people can purchase your recordings.
From Everyone Dies:
Everyone Dies: and yes, it is normal!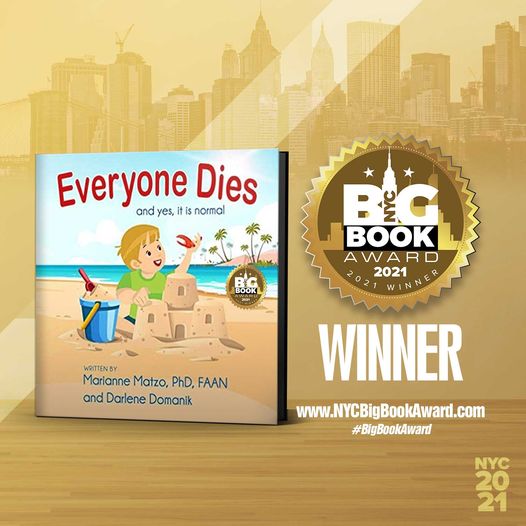 Everyone Dies (and yes, it is normal) is a story about a young boy named Jax who finds something special on the beach where he and his grandpa Pops are enjoying a wonderful day. Pops helps Jax understand that death is a normal part of life. This book provides an age appropriate, non-scary, comfortable way to introduce the important topic of mortality to a preschool child. Its simple explanation will last a lifetime. Autographed copies for sale at: www.everyonediesthebook.com. Also available at Amazon
Mourning Jewelry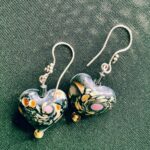 We offer a way to memorialize your loved one or treasured pet with a piece of handmade jewelry.  When people comment on it and the wearer can say for example "I received this when my mother died" which opens the conversation about this loss. All our jewelry is made with semi-precious stones and beads, vintage beads, and pearls. You can choose between earrings or bracelets and the color family. Learn More
Make a Tax-Deductible Donation Here:
Subscribe & Hit That Bell So You Don't Miss a Podcast!
You'll also be eligible for a monthly drawing!