Getting adequate, good quality sleep is vital to our physical and mental health. This week we chat with you about things you can do to achieve 8 hours of quality sleep so your body and heart can heal from your grief.
In this Episode:
01:33 – Recipe: Croissant Breakfast Casserole
03:45 – Origins of CSI
12:29 – Good Sleep Practices for Physical and Mental Health
31:06 – Ask the Ethicist – "What are your thoughts on the spouse of an early-onset Alzheimer's patient dating while said patient is still alive?"
42:32 – Outro
Why is a Good Sleep Routine Important?
Sleep disturbance is the most pronounced symptom in depression. Research studies conducted over time (called longitudinal studies) have identified insomnia as an independent risk factor for the development of new or recurrent depression among young, middle-aged and older adults.
This association between sleep disturbance and depression (loss of sleep can lead to depression as well as depression leading to loss of sleep) has created a new perspective that sleep problems are no longer a byproduct of depression but a predictive symptom.
We talk about the benefit of having a consistent bed and wake time to help your body. Listen to learn six ways to get a good night's sleep, with research-based tips to help you.
References on the Value of Sleep:
The Mother of CSI
We talk about the fascinating story of Frances Glessner Lee and the Invention of Modern Forensics. It wasn't until her 50's that Frances met one of the first forensic medical examiners in the US, and it sparked an interest that would last the rest of her life. Her early skill in making detailed miniatures soon became the basis of a valuable training tool for crime scene investigations, and is in fact still in use today.
Look at the video above for a teaser, but follow this link to a video interview with Bruce Goldfarb, author of 18 Tiny Deaths: The Untold Story of Frances Glessner Lee and the Invention of Modern Forensics as he showed several dollhouse-sized crime scenes that are used for training classes in the Chief Medical Examiner's Office of Maryland. He also told the story of Frances Glessner Lee, who constructed the scenes in the mid-1940s at Harvard University, and who helped pioneer the science of crime scene investigation.
You can actually explore the scenes in Virtual Reality on your mobile phone! The Smithsonian Exhibiti Murder Is Her Hobby: Frances Glessner Lee and The Nutshell Studies of Unexplained Death explores the surprising intersection between craft and forensic science. Explore the interiors of five of these unusual dioramas in 360 degree detail Here.
Other Resources:
Ask the Ethicist: "What are your thoughts on the spouse of an early-onset Alzheimer's patient dating while said patient is still alive?"
The Ethicist newsletter, in the NY Times offers advice on life's trickiest situations and moral dilemmas from the philosopher Kwame Anthony Appiah. We thought we would share one that was published in 2021. How would you respond?
Recipe of the Week
One of the tips we talked about for starting a good routine is to have something good to look forward to in the morning. So how about a pre-prepared Croissant Breakfast Casserole? Head to Southern Living for a mouth-watering video and preparation instructions.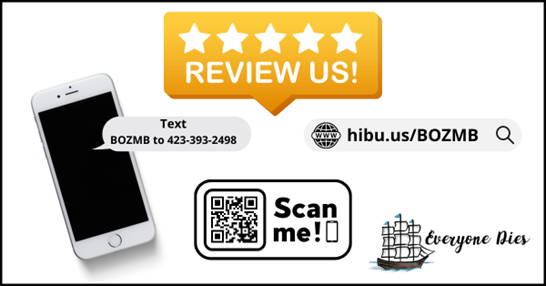 ---

From Everyone Dies:
Everyone Dies: and yes, it is normal!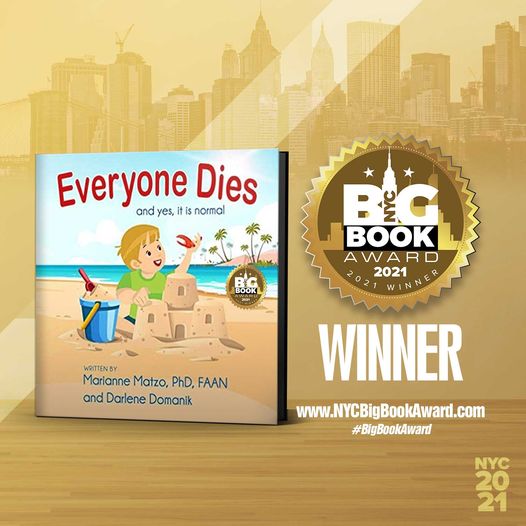 Everyone Dies (and yes, it is normal) is a story about a young boy named Jax who finds something special on the beach where he and his grandpa Pops are enjoying a wonderful day. Pops helps Jax understand that death is a normal part of life. This book provides an age appropriate, non-scary, comfortable way to introduce the important topic of mortality to a preschool child. Its simple explanation will last a lifetime. Autographed copies for sale at: www.everyonediesthebook.com. Also available at Amazon
Mourning Jewelry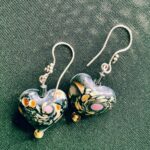 We offer a way to memorialize your loved one or treasured pet with a piece of handmade jewelry.  When people comment on it and the wearer can say for example "I received this when my mother died" which opens the conversation about this loss. All our jewelry is made with semi-precious stones and beads, vintage beads, and pearls. You can choose between earrings or bracelets and the color family. Learn More
Make a Tax-Deductible Donation Here:
Subscribe & Hit That Bell So You Don't Miss a Podcast!
You'll also be eligible for a monthly drawing!