Last week we talked about what ALS is. This week we go in depth into how it is diagnosed. We also honor Lou Gehrig, a Yankees baseball player who was famous for his bravery in face of the disease.
How is ALS diagnosed?
The cause of ALS is unknown, and there is no single test for the condition. Diagnosis of ALS is usually based on the confluence and progression of symptoms and through the ruling out of other diseases that can cause similar symptoms. This includes human immunodeficiency virus (HIV), Lyme disease, and syphilis, as well as neurological disorders such as multiple sclerosis, post-polio syndrome and multifocal motor neuropathy.
Amyotrophic lateral sclerosis is difficult to diagnose early because it can mimic other neurological diseases. Tests to rule out other conditions might include:
Electromyogram (EMG). Your doctor inserts a needle electrode through your skin into various muscles. The test evaluates the electrical activity of your muscles when they contract and when they're at rest.

Abnormalities in muscles seen in an EMG can help doctors diagnose or rule out ALS. An EMG can also help guide your exercise therapy.

Nerve conduction study. This study measures your nerves' ability to send impulses to muscles in different areas of your body. This test can determine if you have nerve damage or certain muscle or nerve diseases.
MRI. Using radio waves and a powerful magnetic field, an MRI produces detailed images of your brain and spinal cord. An MRI can reveal spinal cord tumors, herniated disks in your neck or other conditions that might be causing your symptoms.
Blood and urine tests. Analyzing samples of your blood and urine in the laboratory might help your doctor eliminate other possible causes of your signs and symptoms.
Spinal tap (lumbar puncture). This involves removing a sample of your spinal fluid for laboratory testing using a small needle inserted between two vertebrae in your lower back.
Muscle biopsy. If your doctor believes you may have a muscle disease rather than ALS, you might undergo a muscle biopsy. While you're under local anesthesia, a small portion of your muscle is removed and sent to a lab for analysis.
Consider a second opinion
According to the ALS Association, because ALS is not an easy disease to diagnose, it's been estimated that as many as 15% of ALS cases are misdiagnosed. If you do seek a second opinion, seek out a neuromuscular specialist who has ALS as a clinical focus. This list may give you a good start: ALS Certified Centers & Clinics. The Muscular Distrophy Association (MDA) also sponsors clinics of excellence, but their focus is more broad to include other neuromuscular disorders.
How is ALS managed?
Managing ALS usually involves treating the symptoms and providing supportive care to improve quality of life and prolong survival. This may include things such as a feeding tube for nutritional purposes and breathing support with a ventilator.
Medications
While there are some medications to treat the progression of ALS symptoms, their effectiveness, and mechanism of action are poorly understood. Medications in the context of ALS treatment are usually drugs designed to alleviate symptoms like fatigue, muscle cramps, and spasticity.
The Food and Drug Administration has approved two drugs for treating ALS:
Riluzole (Rilutek). Taken orally, this drug has been shown to increase life expectancy by three to six months. It can cause side effects such as dizziness, gastrointestinal conditions, and liver function changes. Your doctor will monitor your blood counts and liver functions while you're on the drug.
Edaravone (Radicava). This drug, given by intravenous infusion, has been shown to reduce the decline in daily functioning. Its effect on life span isn't yet known. Side effects can include bruising, headache and shortness of breath. This medication is given daily for two weeks a month.
Your doctor might also prescribe medications to provide relief from other symptoms, including:
Muscle cramps and spasms
Constipation
Fatigue
Excessive saliva and phlegm
Pain
Depression
Sleep problems
Uncontrolled outbursts of laughing or crying
Therapies
Breathing care. You'll eventually have more difficulty breathing as your muscles weaken. Doctors might test your breathing regularly and provide you with devices to assist your breathing at night.

New research shows the benefit of expiratory muscle strength training, or EMST. This at-home training can improve pulmonary, swallow, and cough function in individuals with amyotrophic lateral sclerosis (ALS).
More and more patients are electing to use non-invasive ventilation (NIPPV), which research shows can improve survival and respiratory decline even for patients that are not having much trouble breathing yet. Early detection of breathing difficulties and signs such as apnea (such as sleep studies) is important.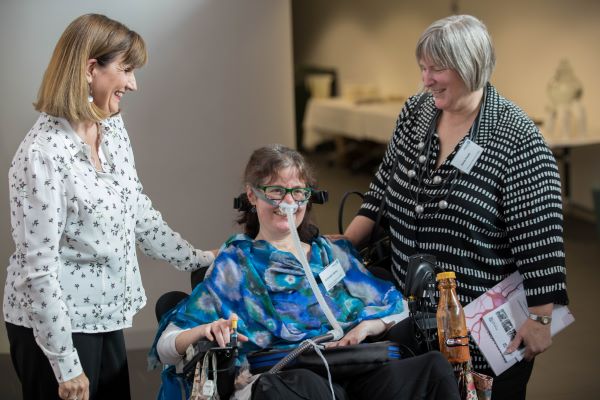 Physical therapy. A physical therapist can address pain, walking, mobility, bracing and equipment needs that help you stay independent. A physical therapist can also help you adjust to a brace, walker or wheelchair and might suggest devices such as ramps that make it easier for you to get around.
Occupational therapy. An occupational therapist can help you find ways to remain independent despite hand and arm weakness. Adaptive equipment can help you perform activities such as dressing, grooming, eating and bathing. An occupational therapist can also help you modify your home to allow accessibility if you have trouble walking safely.
Speech therapy. A speech therapist can teach you adaptive techniques to make your speech more understandable. Speech therapists can also help you explore other methods of communication, such as an alphabet board or pen and paper.

Ask your therapist about the possibility of borrowing or renting devices such as tablet computers with text-to-speech applications or computer-based equipment with synthesized speech that can help you communicate. (The ALS Association also usually has these items to loan)

Nutritional support. Your team will work with you and your family members to ensure you're eating foods that are easier to swallow and meet your nutritional needs. You might eventually need a feeding tube.
Psychological and social support. Your team might include a social worker to help with financial issues, insurance, and getting equipment and paying for devices you need. Psychologists, social workers and others may provide emotional support for you and your family. One of the first things to do when you are diagnosed is to contact your local ALS Association for assistance and support. They offer everything from a case worker to a loan closet of supplies to assist you on your journey. (ALS Association – What do I do now?)
Disease Course
Most people with ALS die from respiratory failure, which occurs when people cannot get enough oxygen from their lungs into their blood; or when they cannot properly remove carbon dioxide from their blood, according to NINDS. In ALS, this happens because the disease can eventually lead to paralysis of the muscles that control breathing. In the late stages of ALS, it becomes hard for patients to exhale carbon dioxide; high levels of carbon dioxide in the body cause low levels of consciousness, leading patients to sleep for long periods. Often, patients with ALS die very peacefully while sleeping, The ALS Association said.
Other ALS Resources:
A love letter to Dance
Charlie read a letter written by Soviet-born dancer Rudolf Nureyev. Nureyev is regarded by some as the greatest male ballet dancer of his generation. In addition to his technical prowess, Nureyev was an accomplished choreographer serving as the chief choreographer of the Paris Opera Ballet. He produced his own interpretations of numerous classical works, including Swan Lake, Giselle, and La Bayadère.
In 1984 Nureyev tested positive for HIV. For many years he refused to acknowledge that anything was wrong with his health, and he continued to perform. Nureyev died on January 6th, 1993, at the age 54. In the spring of 1992, he entered the final phase of the disease. Charlie read the letter he allegedly composed to his greatest love in life: Dance. You can read it here. It is a good reminder to do the things we love because we love it, not expecting anything else out of it:
"The meaning is to become, not to appear. You should dance for life. It's not about being a dancer but rather about the dance. Those who have never found their passion – for me it is, for example, the pleasure of walking into a studio with wooden bars and mirrors – and those who stop because they don't get the results they envisioned… they haven't entered the depths of life. It's the law of love: you love because you feel the need to do it, not to get something out of it or be reciprocated. If you feel the latter, you are destined to a life of unhappiness."

– Attributed to Rudolf Nureyev
Lou Gehrig
"Today I consider myself the luckiest man on earth."

– Lou Gehrig, in his farewell speech to Yankee fans
Lou Gehrig was one of the most famous people to have been diagnosed with ALS. In fact, ALS is often known as Lou Gehrig's disease. The "Iron Horse" played in 2,130 consecutive games in 15 seasons – a streak that was unbroken for 56 years until Cal Ripkin broke it in 1995. Lou was known as being quiet, dignified, soft-spoken and modest, even as one of the most outstanding ball players of all time. His unbreakable character came through in his farewell speech to Yankee fans on July 4, 1939:
"Fans, for the past two weeks you have been reading about the bad break I got. Yet today I consider myself the luckiest man on the face of this earth. I have been in ballparks for seventeen years and have never received anything but kindness and encouragement from you fans.
"Look at these grand men. Which of you wouldn't consider it the highlight of his career just to associate with them for even one day? Sure, I'm lucky. Who wouldn't consider it an honor to have known Jacob Ruppert? Also, the builder of baseball's greatest empire, Ed Barrow? To have spent six years with that wonderful little fellow, Miller Huggins? Then to have spent the next nine years with that outstanding leader, that smart student of psychology, the best manager in baseball today, Joe McCarthy? Sure, I'm lucky.
"When the New York Giants, a team you would give your right arm to beat, and vice versa, sends you a gift – that's something. When everybody down to the groundskeepers and those boys in white coats remember you with trophies – that's something. When you have a wonderful mother-in-law who takes sides with you in squabbles with her own daughter – that's something. When you have a father and a mother who work all their lives so you can have an education and build your body – it's a blessing. When you have a wife who has been a tower of strength and shown more courage than you dreamed existed – that's the finest I know.
"So I close in saying that I may have had a tough break, but I have an awful lot to live for."
You can see Lou Gehrig memorabilia including the trophy given to him by his teammates here.
Recipe Time
We have a recipe for you straight from the WWII archives, when families had to conserve ingredients to support the warfront. Enter the One-Egg Victory Cake, from the Royal Baking Powder Cookbook. You can get the recipe and others here at Gastro Obscura.
ONE-EGG VICTORY CAKE, from the Royal Baking Powder cookbook:
1/3 cup shortening
2/3 cup sugar
1 egg, well beaten
1/2 teaspoon vanilla extract
1/3 cup light corn syrup
1 cup milk
2 cups cake flower
2 1/2 teaspoons Royal Baking Powder
1/4 teaspoon salt
Cream shortening well; add sugar slowly, beating in well. Add beaten egg and vanilla; beat until well blended. Blend syrup and milk. Sift together dry ingredients and add alternately with liquid to first mixture. Bake in greased square pan (8 x 8 x 2 inches) in moderate oven at 350°F. about 1 hour or in 2 greased eight-inch layer cake pans at the same temperature about 30 minutes. Makes 1 eight-inch or 1 two-layer cake. Note: Honey may be substituted for light corn syrup.
Let us hear from you
Have a great recipe? A favorite ALS hero? Contact us using the form below, or via social media.