In this episode we explore cemeteries: their origin and evolution, traditions, even symbols and meanings of things you might see on headstones. We also learn about a memorial reef using cremains, and the Queen's cemeteries for the royal family pets.
What is the origin of cemeteries?
The word cemetery dates to the late 14th century. Its roots can be traced back to the Old French word "cimetiere," which is itself derived from the Medieval Latin "cemeterium." Its literal translation is "a place set aside for the burial of the dead."
It can also be tied to the ancient Greek word "koimeterion," which was a sleeping place or dormitory. Somewhere over the years, the terms "sleep" and "death" became blurred together.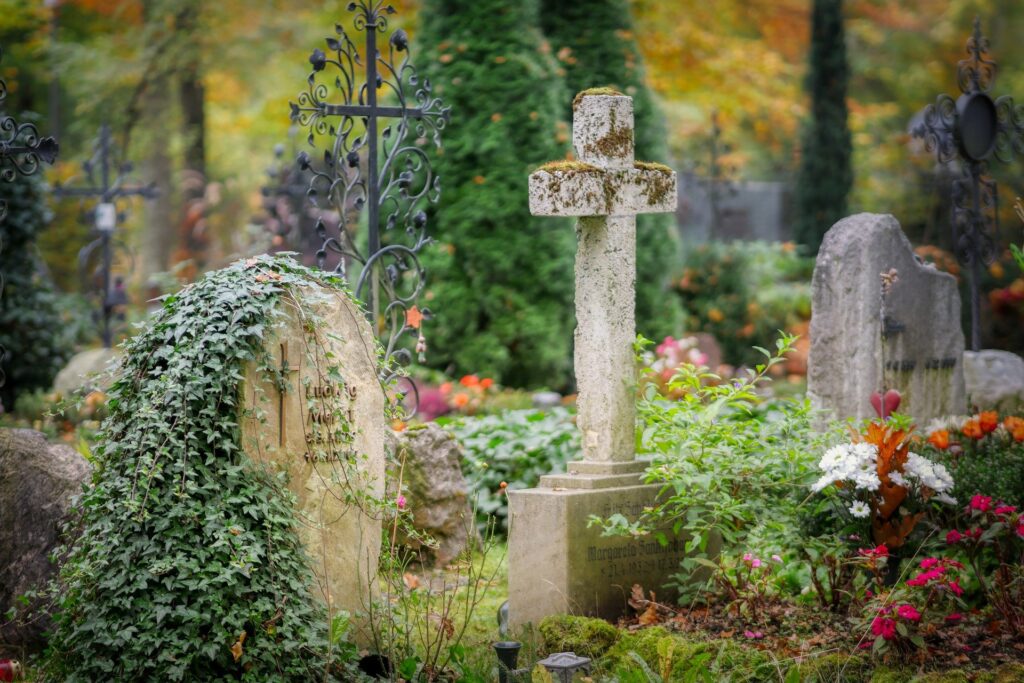 What are some of the symbols on the gravestones?
Nature-based symbols and their meanings:
• Daffodil – Deep regard
• Dove, lamb, daisy – Each represent purity and innocence; often found on children's graves
• Dog – Loyalty, family pet
• Fern – Sincerity, sorrow
• Flower, broken – Life cut short, mortality
• Forget-me-not – Remembrance
• Ivy – Friendship
• Laurel leaves – Special achievement, triumph
• Oak tree, leaves, acorn – Circle of life, immortality, strength (tree)
• Rose – Beauty, beauty of the soul; can denote age (rosebud for a child, etc.)
• Weeping willow – Perpetual mourning

Images with symbolism, such as these:

• Anchor – Hope
• Book – Usually the Bible
• Bugle – Military
• Cherub – Child's grave
• Circle – Eternity
• Gate – Gates of Heaven
• Hourglass – Passage of time
• Hourglass, winged – Time flies
• Masonic compass – Freemason
• Mourning woman – Perpetual mourning
• Sword – Military Career
• Swords, crossed or broken – Death in battle
• Wheat sheaf – Long, full life
• Wreath – Victory
References
We talk about a lot more in the episode, so be sure to listen in! Here are some of the resources referenced:
Interesting Cemeteries
Neptune's Memorial Reef
Our guest David (our CEO) continues his series on interesting cemeteries. We hinted at this in our episode about what to do with cremation ashes. Cremains are mixed with cement and put into a mold shaped like a starfish, shell, or column that is favorable for habitat. A plaque can be placed on it, and family members can even be present to help with the mold making and put special trinkets into the cement.
The memorial is then placed in an underwater estate with an Atlantis vibe. Structures that were placed there years ago have been extremely successful in creating habitat in a barren part of the sea floor and have drawn researchers all over the world. What an idea for helping life live on!
The Queen's Memorial for her Corgis
In 1933, King George VI, father of Queen Elizabeth, gave Welsh corgi Dookie to the then 7-year-old Princess Elizabeth and her younger sister, Margaret. On her 18th birthday in 1944, Princess Elizabeth received a corgi of her very own whom she named Susan.
Susan became the origin breeding dog of the Queen's corgi dynasty of 30 corgis and later dorgis across her lifetime linking all 30 back to Susan. Susan and the Queen were so close that Susan accompanied her Highness and the Duke of Edinburgh during their honeymoon.
When Susan died in 1959 Queen Elizabeth revitalized the pet burial plot at Sandringham Palace. The Queen, in mourning, began sketching ideas for what she wanted Susan's grave to look like. The initial inscription on her gravestone read: SUSAN / DIED 26 JAN 1956 / FOR 15 YEARS THE FAITHFUL COMPANION OF THE QUEEN. The Queen continued to design the gravestones of Susan's descendants.
Queen Elizabeth is not alone in the death of so many pets. The death of a pet is devastating for many people. Admitting this can be embarrassing then hurtful when someone responds "it was just a pet" suggesting it's not worthy of the same grief as a human's death. See these episodes and memorial ideas in previous shows:
Over the years she's owned more than 30 corgis, including several mixed breed dorgis (from an unplanned rendezvous with Princess Margaret's dachshund Pipkin). Several royal family pets (including labs and a spaniel) are all memorialized in a graveyard. The Queen recently lost 13-year-old Monty and 15-year-old Willow, who starred with Her Majesty in the James Bond sketch for the Olympics opening ceremony. You can see this fun sketch below!
For more about the royal pet cemeteries, visit these additional links:
Recipe of the Week
As we talk about the Queen, we're featuring Brown Windsor Soup. No one knows where the recipe originated, but it was said to be one of Queen Victoria's favorite soups. However, as Annie Gray writes in The Greedy Queen: Eating with Victoria, "Brown Windsor soup, which is often cited as a favorite dish of the Queen, did not exist at all in the nineteenth century."
The soup was actually joke in television and radio comedy shows such as Fawlty Towers and The Goon Show (with Peter Sellers), but somehow this humble soup's imaginary origins made it into collective consciousness. We actually found a recipe of it, featured on History Extra. Head on over to make your own hearty stew.
Read more about the hilarious background of this stew from Gastro Obscura: One of the Most Famous Victorian Dishes Is a Hilarious Lie.
From Everyone Dies:
Make a Tax-Deductible Donation Here:
Subscribe & Hit That Bell So You Don't Miss a Podcast!
You'll also be eligible for a monthly drawing!