How do we diagnose and support patients with FTD?
When Bruce Willis' family put out a statement about his diagnosis with Frontotemporal dementia, we thought it would be a good time to talk about this disease. It is a complicated disease, so we divided our chat about this illness into two podcasts. This week we talk about the management of frontotemporal dementia and ways you can help your loved one.
This Week's Podcast Lineup:
01:19 – Martina McBride's Creamy Chicken Tortilla Soup
02:26 – Life Beyond the Groove: Embedding Cremains in Vinyl Records
05:58 – FTD Diagnosis and Management
31:27 – "You Don't Just Lose Someone Once"
What is Frontotemporal Dementia (FTD)?
Frontotemporal disorders (FTD), also called frontotemporal dementia, are the result of damage to neurons in the frontal and temporal lobes of the brain. Musual behaviors, emotional problems, trouble communicating, difficulty with work, or difficulty with e than other forms of dementia. Roughly 60% of people with FTD are 45 to 64 years old.
Last week we talked about the diagnosis of Frontotemporal dementia and the three types that are seen: behavioral, the ability to communicate (two forms of Primary Progressive Aphasia or PPA), and the rare type that affects movement. This week we discuss diagnosis, management, and death from this disease.
This episode talks about:
A review of typical symptoms seen in FTD
How FTD is diagnosed
The seven stages of FTD progression
Strategies if someone you love has FTD
Managing movement problems in FTD
What to expect as the disease progresses
Behavioral Symptoms in FTD
Inappropriate behavior in public
Impulsivity
Loss of inhibitions
Overeating, a change in food preferences (such as suddenly liking sweet foods), poor table manners
Neglect of personal hygiene
Repetitive or obsessional behaviors, such as humming, hand-rubbing and foot-tapping, or complex routines such as walking exactly the same route repetitively
Seeming more selfish
Inability to empathize with others, seeming cold and uncaring
Irritability
Being tactless or rude
Being less or more outgoing than in the past
Being lethargic, lacking enthusiasm
Depression
Diagnosing FTD
Observations of changes over time are important to distinguish FTD from other neurodegenerative diseases like Alzheimer's. Labs and imaging such as MRI will help rule out other diseases and give insight on the causes. Providers will ask questions about the personal and family history. Genetic testing may be ordered due to possible genetic links. Other tests can evaluate memory, thinking, language, and other physical functioning. Teams involved may include your primary care, a neurologist, a psychiatrist, and a geneticist.
What Can Imaging and Testing Show?
The image below shows the types of FTD, caused by the area of the brain affected. The Frontal lobe (top row) affects personality and normal inhibitions. Decline in the temporal lobe (two bottom rows) affects the ability to understand and form speech. In rare cases, some people with FTD may also develop a movement disorder such as parkinsonism or motor neuron disease (which may be associated with various additional symptoms) (GARD).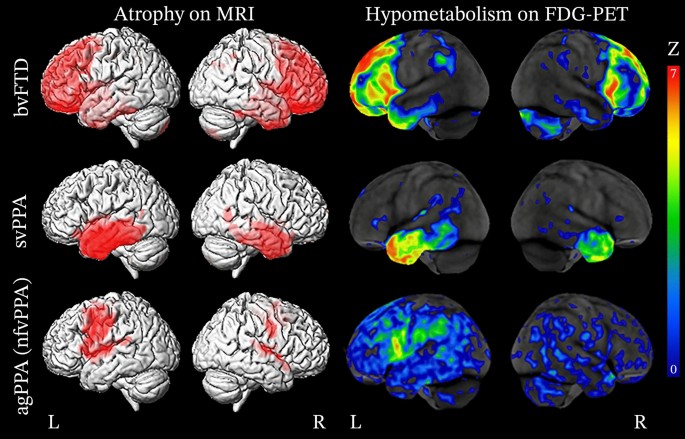 For a very deep dive, this researcher talks about the disease with very understandable examples from his studies, as well as the work they are doing to improve detection and treatment of FTD.
What can help?
We talk a lot about what can ease the symptoms of FTD. There is no cure, but medications as well as physical and occupational therapy can provide some help. Speech therapists can also be involved to help find ways to help adapt to the specific declines in language abilities.
How can I adapt to the changes in my loved one?
This is the hardest part. The person with FTD is often not aware of the changes in personality and behavior. Understanding what causes the changes and knowing how to respond is key. We talk about what to expect and strategies to reduce frustration.
References:
Resources:
Association for Frontotemporal Degeneration
866-507-7222
info@theaftd.org
www.theaftd.org
Related Podcasts:
You Don't Just Lose Someone Once
Charlie recites this poem by Donna Ashworth Words about how one never gets over the loss of a loved one. The remembrance is with you the rest of your life.
YOU DON'T JUST LOSE SOMEONE ONCE 
by Donna Ashworth Words

You lose them over and over,
sometimes many times a day.
When the loss, momentarily forgotten,
creeps up,
and attacks you from behind.
Fresh waves of grief as the realization hits home, they are gone.
Again.

You don't just lose someone once,
you lose them every time you open your eyes to a new dawn, and as you awaken, so does your memory, so does the jolting bolt of lightning that rips into your heart, they are gone.
Again.

Losing someone is a journey,
not a one-off.
There is no end to the loss,
there is only a learned skill on how to stay afloat, when it washes over.

Be kind to those who are sailing this stormy sea, they have a journey ahead of them, and a daily shock to the system each time they realize, they are gone, Again.

You don't just lose someone once,
you lose them every day, 

for a lifetime.
Life Beyond the Groove
Charlie shares about a novel way to incorporate the ashes of a loved one…especially for music lovers. There is a company in London that will press a vinyl record with the cremated remains of your loved ones along with music, stories or anything else you would for a soundtrack. They are Vinyl and they help people "live from beyond the groove".

These are real vinyl records made using, traditional vinyl production techniques with additional specialist in-line processes (not engraved PVC blanks). The cremated ash (cremains) are sprinkled on the vinyl before the final press. 

You can prepare the album before you die (except for the cremains part) so that after your death all they have to do is add the cremated remains and you have an album that the whole family can treasure. Sound interesting? Here's a link to And Vinyly's site. You can also watch the video below.
Recipe of the Week
A few weeks ago we were treated to the Tom Cruise cake as our recipe of the week.  This week we have Martina McBride's Creamy Chicken Tortilla Soup. She says, "I do love making soups, and I feel like it's something you can put on the stove and let it simmer all day, and it makes the whole house smell good". Does the image alone have you salivating? Marianne sure loved it! Head over to Southern Living for the recipe.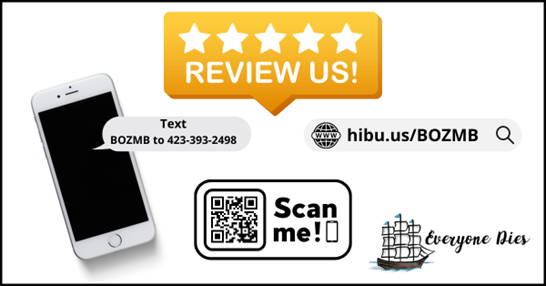 ---

As a songwriter, 'Everyone Dies' is inviting you to showcase your original work on an upcoming podcast.
There are many wonderful songs that could be played at a funeral. We also know there are songs that could be played, but are cringeworthy (e.g. Ding Dong the Witch is Dead; Another One Bites the Dust; Ring of Fire, etc.).
We are inviting you to send us a recording of two of your original songs (i.e. that could be played at a funeral, one that is appropriate, one that is likely not) to be included in the third half of the 'Everyone Dies' podcast. We will include as many artists over the next year (maybe longer if we are enjoying the segment) as possible.
What we need:
Go to this link, fill out the form and submit it along with your two original songs in .wav or .mp3 format (i.e. two original songs that could be played at a funeral, one that is appropriate, one that is likely not). We will screen them and let you know what week your work will be included. We will include all your information in our show notes so people can purchase your recordings.
From Everyone Dies:
Everyone Dies: and yes, it is normal!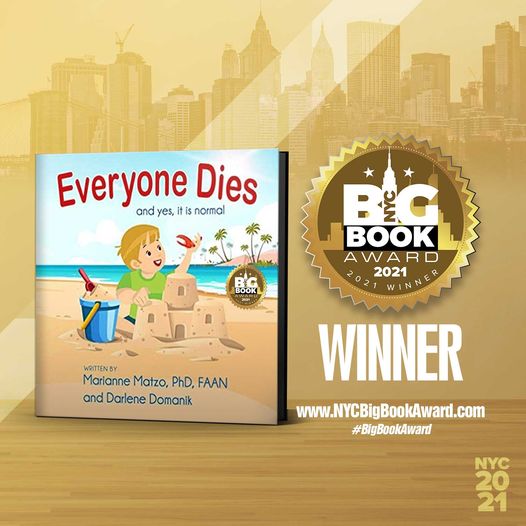 Everyone Dies (and yes, it is normal) is a story about a young boy named Jax who finds something special on the beach where he and his grandpa Pops are enjoying a wonderful day. Pops helps Jax understand that death is a normal part of life. This book provides an age appropriate, non-scary, comfortable way to introduce the important topic of mortality to a preschool child. Its simple explanation will last a lifetime. Autographed copies for sale at: www.everyonediesthebook.com. Also available at Amazon
Mourning Jewelry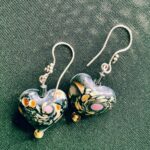 We offer a way to memorialize your loved one or treasured pet with a piece of handmade jewelry.  When people comment on it and the wearer can say for example "I received this when my mother died" which opens the conversation about this loss. All our jewelry is made with semi-precious stones and beads, vintage beads, and pearls. You can choose between earrings or bracelets and the color family. Learn More
Make a Tax-Deductible Donation Here:
Subscribe & Hit That Bell So You Don't Miss a Podcast!
You'll also be eligible for a monthly drawing!