Today, we're talking about a colostomy – something not much discussed in "polite" company! Whether you or a loved one have one because of bowel inflammation, infection, injury, or cancer, learn about how to not just manage a colostomy, but how to thrive with one! (What is an Ostomy? Click here to learn!)
Marianne had a special interview with Chris Sperry who was diagnosed with colon cancer at age 50.  He had a colostomy and multiple rounds of chemo, but the cancer progressed to his liver and lungs.  In our interview he talks about how to live and thrive with a colostomy, including competing in an Ironman Triathalon! Learn what advice and tips he gave through his inspirational story, including a comparison of cancer treatment to triathalon stages and transitions.
Chris also shared some good thoughts and resources:
1. The big three ostomy appliance companies are:
Often your hospital will have a contract with one of these companies and that will be the brand you are sent home with. If those products don't work well for you, contact the other companies directly and they will send samples to you. So do some research and try different things until you find what works…don't feel stuck with what you got when you left the hospital. Try products from all three companies if necessary.
2. Hollister is the largest of the three and is located in the US, but their products are available all over the world too. They offer a service called Secure Start. It's really an awesome service staffed by a few dozen people who do nothing but help people with ostomies. The nice thing is that they will help anyone…you don't have to be a Hollister customer. If another company's product is right for you, they still will help you.
3. Ostomy support belts and garments can be a big help and are most often purchased from a smaller specialty website and not from the big three ostomy companies. They range from inexpensive maternity 'belly bands' sold at Walmart for $20 to more specialized, better functioning belts made specifically for people with ostomies for close to $100.
Wearing the basic ostomy medical products (the wafer that sticks to your body and the pouch that collects output solves your basic medical problem but still leaves a few concerns, particularly for active people. Those include:
Does the pouch show through my clothing…can everyone see this?
As it fills and gets a little heavier, will it pull off my body?
Will it get caught on something at work and pull off or will a grandchild or pet accidently pull it off?
What about exercise…how do I jog, swim, do yoga, etc….with this hanging loosely inside my shirt?
What about sleeping and intimacy…is there a way to make things more secure and discreet?
It's shocking when I look in the mirror after a shower and see a prominent medical device dangling from my abdomen…is there a way to disguise it a bit so I feel more like myself again?
As for cost, yes $100 for an ostomy belt is a lot of money. On the other hand, it should last you 1-2 years. So it's about $0.25 per day to have your life back. And these more sophisticated belts are made completely differently from a maternity band…the support and enclose the pouch which makes it invisible to others while still allowing it to function normally. People often try a maternity band and then decide to upgrade to a belt made specifically for ostomies.
4. For all around support, the Stealth Belt is a good choice. https://www.stealthbelt.com
They offer a basic adjustable belt for everyday & exercise and a really comfortable 'Slip-On' one for bedtime. They also have styles for more extreme pursuits like surfing with belts made out of neoprene, like a wetsuit. And they make fully custom designed belts for people with very special needs such as a double-ostomy or a large hernia to control. Standard mens, womens, and childrens belts are available for immediate shipping. Stealth Belt also owns ComfortBelt in the UK https://www.comfortbelt.com. and offers free next shipping in the UK.
5. For specialty lingerie and garments, Vanilla Blush in the UK has really nice things. https://www.vblush.com. Comfizz is also a great resource https://comfizz.com
6. You can find lots of great info at Vegan Ostomy. https://www.veganostomy.ca including independent product reviews. Eric's videos provide a wealth of knowledge and are really well done.
7. Another great resource is Laura Cox at Shield Healthcare.
8. As for inspiring stories that help you see what others with ostomies are doing, this page on ComfortBelt has links to those. https://www.comfortbelt.com/blogs/blog/people-who-inspire.
9. And another place to see what people with ostomies can accomplish is on Stealth Belt's Ambassador page: https://www.stealthbelt.com/become-an-ambassador
Thank you Chris!
Other resources:
Recipe Time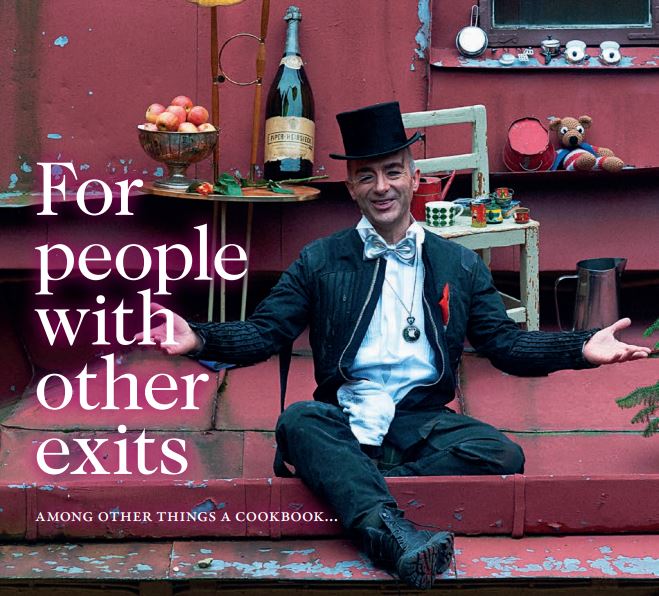 We wanted to bring you an ostomy-friendly recipe, and found a witty resource created by the Swedish Ostomy Association. The models for the cookbook all have stomas, although some are rather adorned. (What do you think of those pics?) The recipes themselves are by top Swedish chefs, and look amazing!
Avocado and Spinach Soup
Ingredients:
1 bag fresh baby spinach
3 avocados
1 ½ litre (6 cups) organic bullion
1 clove garlic 2 shallots peeled and chopped
1 tsp. lime or lemon juice
1 Tbsp. coconut oil for frying
2 Tbsp. fresh basil chopped
1 piece feta cheese
1 Tbsp. olive oil Salt and black pepper
Instructions:
Mix feta cheese and olive oil to a paste. Fry up onions and spinach in coconut oil, stirring. Add the bullion and let it boil for a minute. Take the saucepan from the heat. Cut the avocado and scoop out the flesh and add it to the rest of the ingredients. Mix the soup. Add lime or lemon juice, and salt and pepper to taste. Pour the soup into soup bowls and decorate with basil and lemon. Serve the feta paste with the soup. Do note that there is lactose in feta cheese.
Have a favorite?
What's your favorite recipe? Have one that is also ostomy friendly? We would love to feature it! Send us your comments below or on Facebook!