Living with the Awareness that Every Day is a Gift
If you knew this would be your last good day with someone, or your own independence, would you do something different? Why wait? This episode is all about capturing those moments…and eating lots of pizza and ice cream!
Capture each day
In the book, The Fault in Our Stars by John Green, Hazel talks about life and says, "There's no way of knowing that your last good day is Your Last Good Day. At the time, it is just another good day." This week we explore the idea of the last good day through both the lens of disability and that of death.

We talk about the last good day with a loved one. In the first half Charlie has a ghost story for us and "Holy Mackerel, Andy!" he has our recipe of the week. In the second half Marianne talks about how we never know when the last good day is going to be and in our Third Half, Charlie reads an essay by Steve Spohn about his life's last good days.
What's in this Podcast:
04:02 – The Holy Cow Cake
04:32 – The 27th Street Goblin
16:58 – Treating Every Day as the Last Good Day
30:36 – Your Last Good Day – an Essay by Steve Spohn
37:05 – Outro
The Last Good Day
We say "Every Day is a Gift" at the end of every podcast. It reminds us that in the blink of an eye, everything we know, think or feel can change. It can be time with a loved one, our independence, a relationship…we never know. All we can do is be in the moment and take in every day.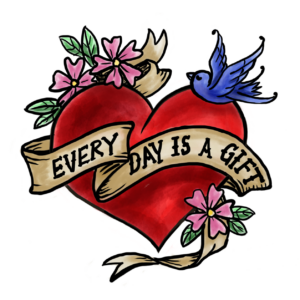 How about you? How do you recognize and celebrate the fragility of life as we know it?
References:
Resources
The Fault in Our Stars – by John Green. Despite the tumor-shrinking medical miracle that has bought her a few years, Hazel has never been anything but terminal, her final chapter inscribed upon diagnosis. But when a gorgeous plot twist named Augustus Waters suddenly appears at Cancer Kid Support Group, Hazel's story is about to be completely rewritten.

There's also a US movie by the same name (HBO Max) and a Bollywood version of the story is on Disney+, called Dil Bechara, see trailer below.
True History of the 27th Street Goblin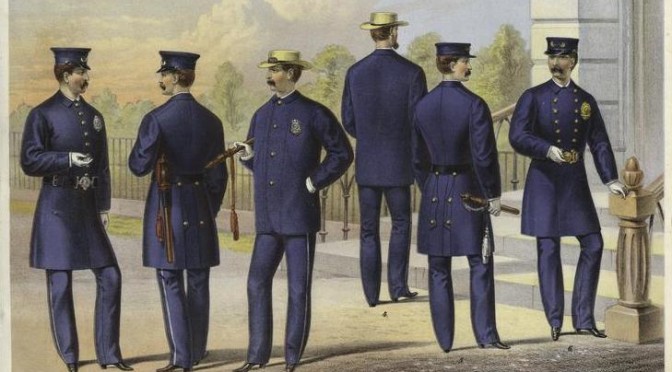 Charlie read us a story from an 1870 article that reveals the true origin of the goblin that plagued a New York neighborhood a decade earlier. The article is available at New York Times.
Recipe of the Week
Need more milk and sweetness in your life? Enter Holy Cow Cake! A Chocolate cake topped with sweetened condensed milk and caramel sauce which is then topped with whipped topping and chopped butterfingers. Get it right here from Pics and Pastries.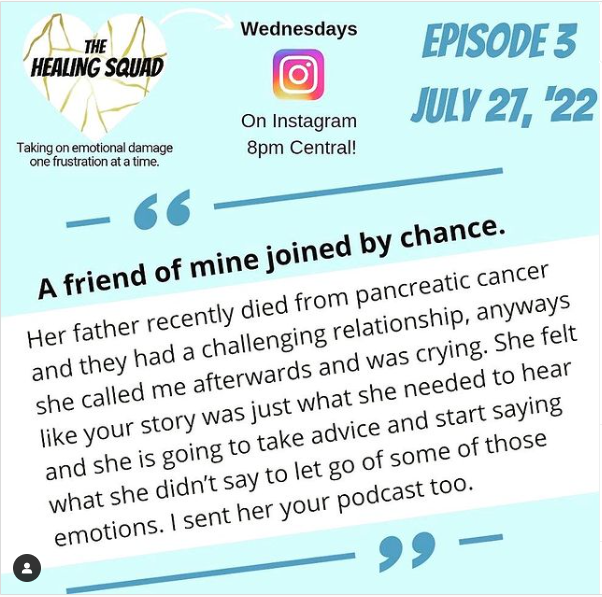 Join Claire Luckey, Marianne Matzo, Anita Myers, and special guests every Wednesday at 8pm Central for live discussions!
Instagram: The Healing Squad
Taking on emotional damage one frustration at a time.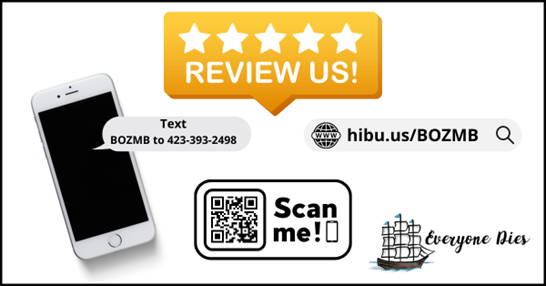 ---

As a songwriter, 'Everyone Dies' is inviting you to showcase your original work on an upcoming podcast.
There are many wonderful songs that could be played at a funeral. We also know there are songs that could be played, but are cringeworthy (e.g. Ding Dong the Witch is Dead; Another One Bites the Dust; Ring of Fire, etc.).
We are inviting you to send us a recording of two of your original songs (i.e. that could be played at a funeral, one that is appropriate, one that is likely not) to be included in the third half of the 'Everyone Dies' podcast. We will include as many artists over the next year (maybe longer if we are enjoying the segment) as possible.
What we need:
Go to this link, fill out the form and submit it along with your two original songs in .wav or .mp3 format (i.e. two original songs that could be played at a funeral, one that is appropriate, one that is likely not). We will screen them and let you know what week your work will be included. We will include all your information in our show notes so people can purchase your recordings.
From Everyone Dies:
Everyone Dies: and yes, it is normal!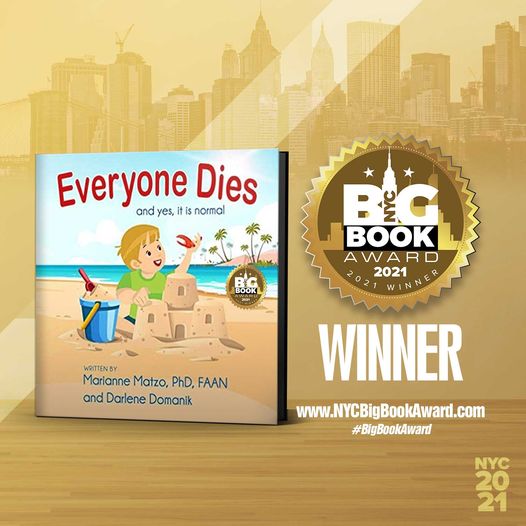 Everyone Dies (and yes, it is normal) is a story about a young boy named Jax who finds something special on the beach where he and his grandpa Pops are enjoying a wonderful day. Pops helps Jax understand that death is a normal part of life. This book provides an age appropriate, non-scary, comfortable way to introduce the important topic of mortality to a preschool child. Its simple explanation will last a lifetime. Autographed copies for sale at: www.everyonediesthebook.com. Also available at Amazon
Mourning Jewelry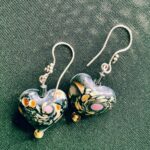 We offer a way to memorialize your loved one or treasured pet with a piece of handmade jewelry.  When people comment on it and the wearer can say for example "I received this when my mother died" which opens the conversation about this loss. All our jewelry is made with semi-precious stones and beads, vintage beads, and pearls. You can choose between earrings or bracelets and the color family. Learn More
Make a Tax-Deductible Donation Here:
Subscribe & Hit That Bell So You Don't Miss a Podcast!
You'll also be eligible for a monthly drawing!