When we are the caregiver for a spouse living with dementia, we often wonder about what our lives have been, where our lives are going, and how long we can do what we are doing. This week we talk with a caregiver about how his life changed after the death of his wife.
Ambiguous Loss
We share another segment from Greg, whose wife of 50 years died after a long struggle with Alzheimer's. You can read more about Greg's journey at his site, Reaching out with Love: a place for the chronically ill and their caregivers.
Pacing back and forth, broken-hearted, beside the busy highway...

I have been with my Girlfriend and wife of 50 years since 8th grade.  We are 71, so that is a lifetime of being together.  I know how to be a couple.  I don't know how to be a lone wolf!

The term "lone wolf" is a bit strange and just a little sad considering wolves often live in packs and are also monogamous. An alpha male and alpha female will mate for life and build their pack by producing a litter of pups per year. 

Losing my mate to dementia, while she is still physically here is confusing me.  Ambiguous loss they call it.  I can look pretty normal to most.  Those closest to me can see it in my eyes; they know I am struggling.

Yesterday, I was out for a drive when I saw a Goose (in my mind, he was a male, so Gander) pacing back and forth near the road.  As I went by slowly, I noticed his mate dead, just off the road.  

She was beautiful and looked normal, but she was broken inside.

The Gander looked perplexed.  Why wasn't the love of his life getting up?  He squawked encouragement.  They needed to go find food and shelter.  They needed to return to their nest. They needed to go home, together. As you may know, geese mate for life.  When they travel great distances, they typically fly in large flocks.  But when they are ready to have offspring, they separate from the flock for months.  They build their nest, often in the same location as they've given birth (hatched) to their babies in years past.

He is frantic.  I feel his pain.  I know his thoughts.  

"Come on, get up.  Please get up!  Lord, I need you, I need you right now, please help her get up."

A tear rolled down my cheek and I pulled into a nearby parking lot.  I sobbed for his loss, I sobbed for my loss.

I have no answers for the Gander, other than life sucks sometimes.  

How will the Gander move on with his life?  For he must, or he too will perish.

With tears streaming down my face, I watched the Gander pace.  I wanted to hug him.  I know how he feels.  I wanted to tell him it is dangerous standing so near the road.  But I knew my words would not matter.  He would stand by, no matter what, in hopes of a miracle that shall not come.  

So what did this Gander do when it became clear that the love of his life was not going to heal, was not going to get up?

Did he retreat to a pond and swim and eat all alone? How long did he grieve? Did he find a new mate?  Or is he still alone? Was he able to join the flock (his community) to fly south for the winter?  Or was he so brokenhearted that he could not go on, as if everything was normal?

Today, some of us are asking those very same questions.  We all know that we should move on, but we simply cannot.

Like the Gander, we must choose life or emotional death.  Currently, my wife is doing relatively well, considering the circumstances. But I know the day will come and I have been trying to prepare myself, with self-care and prayer.

For those of us who have already lost the person that they have been caring for, they have insights that I do not have ... yet.  I hope I have the strength to carry on.  The strength to find hope, happiness, and a reason to live without the love of my life.

The Gander had to make that decision, and so do we.  Do we choose to live or die (emotionally)?  

When that time comes for me...I choose to live!

But, for now, we stand by, the Gander and me.  We pace. We have no choice really …. for we do not know the way forward alone.

Michael Porter on New Love
This is the last interview that we did with Michael Porter. Throughout his wife Janet's illness, Michael had written and shared on social media a blog about his experiences as a caregiver. In doing this he got to know a lot of people going through the caregiving experiences that he had. One was Jean, a woman whose husband had died from Huntington's…and then their daughter was diagnosed with Huntington's, and she also care for her. It was right after Janet's death that Jean's daughter died which she posted on Facebook. Although Michael and Jean had never met, she invited him to her daughter's funeral, and he went. The rest is the close of a fairy tale. Be sure to listen!
Tempering – how are you affected by life's heat?
Michael shared a very poignant thoughts about metallurgy, specifically Tempering. This is the process of changing the crystalline structure in the metal by the temperature the metal is heated to, and how fast it is cooled down. These factors determine whether something is hard, but brittle, or will it be more flexible? You will want to listen to how Michael explains the effects of tragedies in his family – and how he feels we shouldn't shy away from the heat.
Related Episodes:
Resources:
www.alzheimers.gov Explore the Alzheimers.gov website for information and resources on Alzheimer's and related dementias from across the federal government.
Family Caregiver Alliance 800-445-8106 | info@caregiver.org | www.caregiver.org
NIA Alzheimer's and related Dementias Education and Referral (ADEAR) Center

800-438-4380 | adear@nia.nih.gov | www.nia.nih.gov/alzheimers
The NIA ADEAR Center offers information and free print publications about Alzheimer's and related dementias for families, caregivers, and health professionals. ADEAR Center staff answer telephone, email, and written requests and make referrals to local and national resources.
Recipe of the Week
Today we bring you Pizza Salad complete with pepperoncinis. Hopefully Charlie has figured out what they are by now so he can make it too! Head over to the Tipsy Housewife for more details!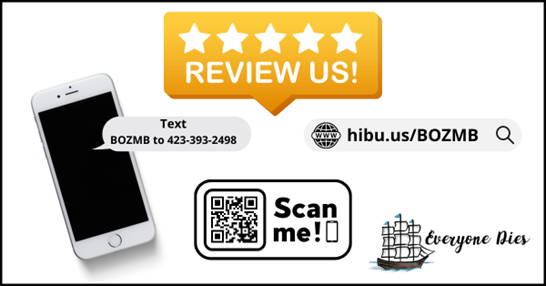 ---

Calling All Songwriters!!!
As a songwriter, 'Everyone Dies' is inviting you to showcase your original work on an upcoming podcast.

There are many wonderful songs that could be played at a funeral. We also know there are songs that could be played, but are cringeworthy (e.g. Ding Dong the Witch is Dead; Another One Bites the Dust; Ring of Fire, etc.).

We are inviting you to send us a recording of two of your original songs (i.e. that could be played at a funeral, one that is appropriate, one that is likely not) to be included in the third half of the 'Everyone Dies' podcast. We will include as many artists over the next year (maybe longer if we are enjoying the segment) as possible.

What we need:
Go to this link, fill out the form and submit it along with your two original songs in .wav or .mp3 format (i.e. two original songs that could be played at a funeral, one that is appropriate, one that is likely not). We will screen them and let you know what week your work will be included. We will include all your information in our show notes so people can purchase your recordings.
From Everyone Dies: