Caregiving for a terminal loved one is a marathon, and it can seem hard to imagine life without them and the responsibilities of taking care of them. What do you do next? We answer that question with an interview with Michael Porter whose wife died from Huntington's disease, and a blog by Greg whose wife of 50 years was in a memory care center.
What Now?
Today we will be sharing our third interview with Michael Porter regarding what he has learned about caring for his wife with Huntington's disease and dementia. When we first interviewed Michael, Janet, his wife of 35 years, was receiving hospice support at home. Just prior to this interview Janet was briefly hospitalized and died. In this interview we talk about how he is seeing his life after Janet's death. He says that he thinks men see the death of a spouse as an amputation, that there is a part of themselves that is missing…but that women grieve the loss of the relationship. Listen and see if his thoughts resonate with you.
Related Podcasts:
Resources:
www.alzheimers.gov Explore the Alzheimers.gov website for information and resources on Alzheimer's and related dementias from across the federal government.
Family Caregiver Alliance 800-445-8106 | info@caregiver.org | www.caregiver.org
NIA Alzheimer's and related Dementias Education and Referral (ADEAR) Center

800-438-4380 | adear@nia.nih.gov | www.nia.nih.gov/alzheimers
The NIA ADEAR Center offers information and free print publications about Alzheimer's and related dementias for families, caregivers, and health professionals. ADEAR Center staff answer telephone, email, and written requests and make referrals to local and national resources.
What are you going to do "after" your caregiving duties are over?
We have a third journal blog from Greg whose wife of 50 years is in a memory care center. You can read more about Greg's journey at his site, Reaching out with Love: a place for the chronically ill and their caregivers.
I am going to pose a question for you. When my wife was in the earlier stages of dementia, I know what my answer would have been.

Here is the question: Have you thought about what you are going to do "after" your caregiving duties are over?

My answer three years ago would have been, "I don't know what I'm gonna do 10 minutes from now, how could I possibly have the time to think about my future after caregiving?"

That may well be what you're thinking now, but that won't keep me from asking the question again.  Are you doing anything to prepare yourself for life "after" your responsibilities as a caregiver are over?

If the answer is "no" - I wouldn't be a bit surprised!  You may not realize that I can see you reading my posts, but I can! 😳 

Here is what I see … (1.) some of you need new pajamas/ robes and (2.) you shaking your head negatively in answering my question.

Frequently, I imagine, the surviving caregiver (you) feels lost. When you have spent most of your waking hours focused on them and what they need and what they like to eat and what they like to do - it is quite possible that you have lost your own identity. 

Being a caregiver can be all-consuming. It requires balancing doctors' visits, tracking medications, and managing moods shifts.  You likely have cooked meals, cleaned the house, and bathed and groomed your person.  Plus, you spend hours of your time worrying about the health of your loved ones, finances, and for many caregivers, your own health.

When the person we are caring for dies (sorry for my bluntness) and our caregiving duties end, we may feel lost and adrift.

I have heard it explained that you actually have two voids to fill. One is the loss of a loved one and the grief that follows. Two, your job.  Being a caregiver is a full-time job, and you will lose that too.

First task - embrace the grief (a whole different topic to explore).

Grief is complicated, maybe more so for caregivers because it is sometimes mixed with a sense of relief.  As the end approaches, their needs are so immense and emotionally difficult, the immediate reaction may be relief (for you and the pain our loved one is no longer experiencing).

There is no timetable for grief, and don't let others tell you differently.  Your grief, your timetable!

Eventually, you will need to move forward, often alone. I am slowly preparing both mentally and physically for that future. I don't want to do it, and I don't dwell on it at this point.

I am practicing better self-care so that my "after" is more enjoyable. I am participating in water aerobics six days a week before I go visit my wife. I am eating healthier and losing weight.

It is also providing benefits for the here and now.  I am happier and healthier, and more mobile than I was six months ago. I plan to be even healthier six months from now.  I am a better caregiver because of it, so my wife is benefiting too.

I am dabbling in art. Trust me, I am not a natural artist, but I'm enjoying painting and looking forward to getting better at it.

I am writing more. Some of you have suggested I write a book.  That will probably not happen, but I haven't taken it completely off the board.

I plan to have at least one knee replaced so that I can walk more and enjoy nature. Someday I will travel Route 66 from Chicago to California. I want to be able to see some of it on foot (Standing on the Corner in Winslow, Arizona).

So you see, little by little I am preparing myself physically for the transition. I have no idea, yet, how to get emotionally prepared. I love my girlfriend so much that I don't know how I would survive without her. But survive I must!

Start to ponder how you will proceed in your "after."   It is a good thing to have hope.  Start peeking into the future a bit, what could it hurt?

PS: don't forget to order those new pajamas, please!  Some of yours are getting a little threadbare! 😉

Greg - Reaching Out with Love
Moment by Moment
David shared with us one of his favorite passages from a book by Jerry Braza, Ph.D called Moment by Moment: The Art and Practice of Mindfulness. It talks about some of the tenants and benefits of mindfulness. Listen to pick up some pointers, and click the clink here to get the book for yourself.
Recipe of the Week
We are continuing our recipes from famous people by sharing the recipe for Mark Wahlberg's mother's macaroni salad. Because who doesn't love a good macaroni salad at a funeral lunch? Mark's brother, Paul has a Mediterranean-Italian restaurant in Hingham, Massachusetts so you can go there to have a taste if you are in the neighborhood.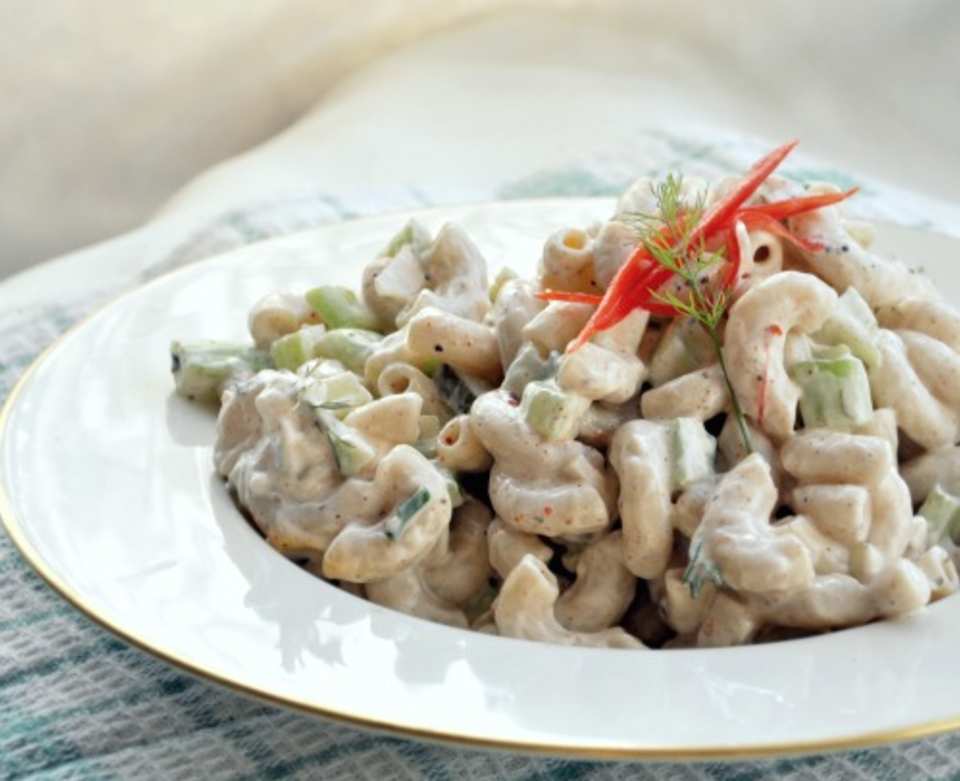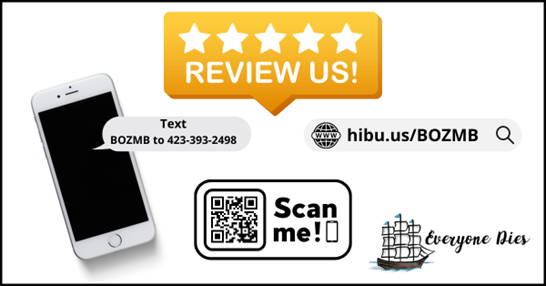 ---

As a songwriter, 'Everyone Dies' is inviting you to showcase your original work on an upcoming podcast.
There are many wonderful songs that could be played at a funeral. We also know there are songs that could be played, but are cringeworthy (e.g. Ding Dong the Witch is Dead; Another One Bites the Dust; Ring of Fire, etc.).
We are inviting you to send us a recording of two of your original songs (i.e. that could be played at a funeral, one that is appropriate, one that is likely not) to be included in the third half of the 'Everyone Dies' podcast. We will include as many artists over the next year (maybe longer if we are enjoying the segment) as possible.
What we need:
Go to this link, fill out the form and submit it along with your two original songs in .wav or .mp3 format (i.e. two original songs that could be played at a funeral, one that is appropriate, one that is likely not). We will screen them and let you know what week your work will be included. We will include all your information in our show notes so people can purchase your recordings.
From Everyone Dies:
Everyone Dies: and yes, it is normal!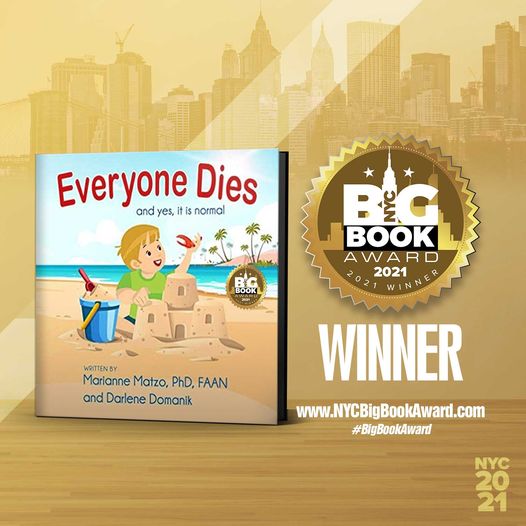 Everyone Dies (and yes, it is normal) is a story about a young boy named Jax who finds something special on the beach where he and his grandpa Pops are enjoying a wonderful day. Pops helps Jax understand that death is a normal part of life. This book provides an age appropriate, non-scary, comfortable way to introduce the important topic of mortality to a preschool child. Its simple explanation will last a lifetime. Autographed copies for sale at: www.everyonediesthebook.com. Also available at Amazon
Mourning Jewelry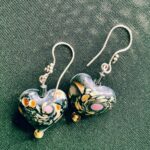 We offer a way to memorialize your loved one or treasured pet with a piece of handmade jewelry.  When people comment on it and the wearer can say for example "I received this when my mother died" which opens the conversation about this loss. All our jewelry is made with semi-precious stones and beads, vintage beads, and pearls. You can choose between earrings or bracelets and the color family. Learn More
Make a Tax-Deductible Donation Here:
Subscribe & Hit That Bell So You Don't Miss a Podcast!
You'll also be eligible for a monthly drawing!