Learn all about the many offerings for veterans for funeral and burial honors.
Have you heard of full military honors but not really sure what it is? We've got you covered. Learn about who is eligible and the many traditions and ceremonies honoring our nation's heroes.
Who is Eligible for Military Funeral Honors?
Military members who died while on active duty, veterans who received an honorable discharge, members of the Commissioned Officers Corps of the Public Health Service and National Oceanic and Atmospheric Administration are all eligible for military funeral honors. Certain civilian or contractual groups who have been given active-duty determinations may also be eligible for funeral honors, as they may have been named active-duty designees for the military, Navy or Air Force services.
What Are Military Funeral Honors?
Upon the family's request, Public Law 106-65 requires that every eligible Veteran receive a military funeral honors ceremony. A minimum of a two-person military service detail who provide the three core elements of the playing of Taps, the folding of the flag, and the flag presentation. Additional elements such as aircraft flyover, color guard and rifles are subject to eligibility, availability and approval. Volunteers such as VFW may also provide honor guard services. You can also learn about the cremation and burial benefits in this video:
One of the most visual traditions is the folding of the flag. The flag is folded in a precise way, with 13 folds, presented to the next of kin of the deceased.
See the references and resources below for more information.
Reference List:
Resources:
Claire Luckey
This week Claire tells us about her journey with hospice and how they made the most of the time he had left. She also shared how he decided to leave and her courageous way of coping with the fact that she wasn't there when he died.
Some links we promised in this interview:
Caring Bridge – a resource to coordinate help and visits from friends and loved ones
Recipe of the Week
You can save you Military Meals Ready to Eat (or MRE's) for another time, instead we have an Orange Sherbet Salad, the very first congealed salad recipe to appear in Southern Living. (Congealed salads mix-mash ingredients – like cottage cheese, nuts and fruit – and suspended in flavored gelatin.) This is one that actually looks good with gelatin-sherbet mixture, crushed pineapple, miniature marshmallows, mandarin orange sections, and whipped cream. Perfect for a funeral dinner spread! Get the recipe here from Southern Living.
---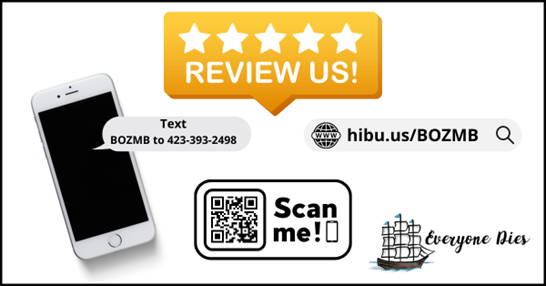 ---
Calling All Songwriters!!!
As a songwriter, 'Everyone Dies' is inviting you to showcase your original work on an upcoming podcast.

There are many wonderful songs that could be played at a funeral. We also know there are songs that could be played, but are cringeworthy (e.g. Ding Dong the Witch is Dead; Another One Bites the Dust; Ring of Fire, etc.).

We are inviting you to send us a recording of two of your original songs (i.e. that could be played at a funeral, one that is appropriate, one that is likely not) to be included in the third half of the 'Everyone Dies' podcast. We will include as many artists over the next year (maybe longer if we are enjoying the segment) as possible.

What we need:
Go to this link, fill out the form and submit it along with your two original songs in .wav or .mp3 format (i.e. two original songs that could be played at a funeral, one that is appropriate, one that is likely not). We will screen them and let you know what week your work will be included. We will include all your information in our show notes so people can purchase your recordings.
---
From Everyone Dies:
Everyone Dies: and yes, it is normal!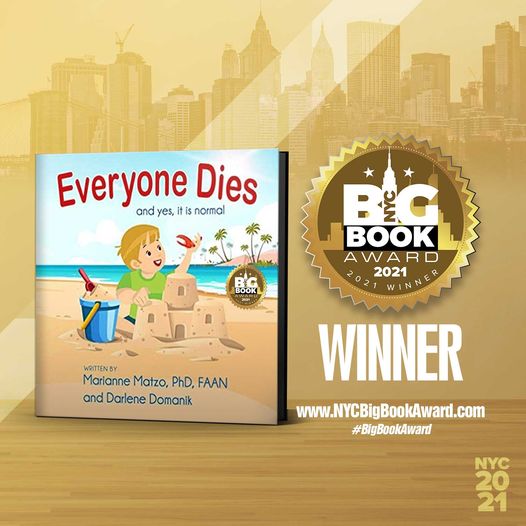 Everyone Dies (and yes, it is normal) is a story about a young boy named Jax who finds something special on the beach where he and his grandpa Pops are enjoying a wonderful day. Pops helps Jax understand that death is a normal part of life. This book provides an age appropriate, non-scary, comfortable way to introduce the important topic of mortality to a preschool child. Its simple explanation will last a lifetime. Autographed copies for sale at: www.everyonediesthebook.com. Also available at Amazon
Mourning Jewelry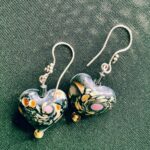 We offer a way to memorialize your loved one or treasured pet with a piece of handmade jewelry.  When people comment on it and the wearer can say for example "I received this when my mother died" which opens the conversation about this loss. All our jewelry is made with semi-precious stones and beads, vintage beads, and pearls. You can choose between earrings or bracelets and the color family. Learn More
Make a Tax-Deductible Donation Here:
Subscribe & Hit That Bell So You Don't Miss a Podcast!
You'll also be eligible for a monthly drawing!